The New Student
August 13, 2011
"Guess who the new student is!" Tracy bounced around me excitedly, her large dark ringlets bouncing along with her.

"How am I suppose to know the new student?" I asked grinning at her. I opened my locker and hung my bag up on the crooked odd hook inside of it.

"Well, they aren't really new, they used to go here, then they moved away, then they came back." She spoke quickly, wanting to tell me more than ever now.

"Just tell me." I demanded as I pulled my notebook from my bag.

"Louis!" She squealed, smiling so wide it had to hurt. I let the notebook slide from my hands and scrambled to pick it up after it made an odd smacking sound when it landed.

Tracy looked at me expectantly, waiting for me to seem as excited as she was. Louis, my ex-boyfriend, had dumped me when he told me he was moving. I didn't have the guts to tell Tracy.

"We mutually ended." I remember telling her. Now he was back.

"Well, that's..." I couldn't think of anything to say. I was saved by the nasally sounding school bell and Tracy waved good-bye as she hurried away to her first hour. I made it to my first hour, Social Studies, before the tardy bell sounded.

"Good morning, class!" Mrs. Earwig greeted the class as usual and pointed at the whiteboard, which had the assignments due that week.

"Go ahead and get to work." She sat down at her desk and I pulled my papers out. Me and Eli, my table partner, started working together on the vocabulary. Eli was cute, his boyish grin and light colored hair looked good on him, and despite the winter months he still was tan.

I started to forget about Louis as me and Eli joked around and filled out the simple paper. A knock on the classroom door made everyone look up. The door swung open, squeaking a little and counselor, Mrs. Howard, stepped in and my heart stopped at the sight of the tall, handsome boy that followed her. He didn't glance my way, so he hadn't noticed me yet. The 5 months had done Louis well, he looked better than I remembered. He left sometime in October, and now he returned, in April.

"Ahh, class, you remember Louis Hatting?" Mrs. Earwig rose from her chair and motioned to Louis.

A couple people nodded and some yelled out "Hey!" to him. I kept silent, hoping he wouldn't notice me. I glanced down at my paper and noticed the seat straight across from me was empty. Britt must have been sick today. Glancing around, I breathed a sigh of release at the sight of another empty seat in the front of the classroom.

"Well, Louis, just pick any open seat." Mrs. Earwig returned to her seat and the counselor slipping out of the classroom silently. Louis's gaze spread out over the classroom and all the attention was on him. Then his bright blue eyes locked onto mine. He gave a small, sly smile and strode over. My heart sunk and I felt like dropping my head on the table, but I kept a look of unconcerned disregard on my face. Louis plopped down on the seat across from me, his eyes still burning into my own.

"Hi Bree." He spoke first, his face breaking out into a large grin. I just gave a small wave with my fingers and turned back to Eli, ignoring his presence now.

"Bree, I know your mad at me and I want to talk to you." I heard him whisper and I whipped my head around, glaring at him severely. He stared back with a calmness I had once found attractive, now I found it annoying.

"Well, Louis, it's a little late for that." I replied coldly and turned back to the slightly confused Eli.
"Let's finish this." I said quietly so my voice wouldn't crack as I held the vocab sheet up. Eli touched my hand kindly and nodded, knowing not to ask any questions.
Louis kept his mouth shut the rest of the class and I kept the tears down as well.

When the bell rang and released us from class. I gathered my things up and left the classroom quickly, but Louis was right behind me.

"Bree, please talk to me." His hand grabbed my shoulder and I jerked away from him.

"Leave me alone, Louis." I hissed over my shoulder, but I could hear his breathing as he followed me to my locker.

"Bree, I'm not going to leave you alone till we talk!" He growled, angry now.

"What do you want to talk about?" I asked jerking my locker open.

"I'm sorry." He said softly and I glanced at him, the sincere look on his face startling me a bit.

"Once again, Louis, that's a little to late." I glanced away.

"I know, but I still need to say it. I missed you all these months and I felt horrible after I left. I was stupid for dumping you, especially as rudely as I did." His eyes looked like big sad puppy dog eyes. "I want you back."

I just nodded, afraid if I started to speak I would start crying. I felt his arms snake around me and I leaned into the awkward hug, missing all the hugs we used to have.

"I love you, Bree." He whispered. I just nodded and felt a few tears slip out.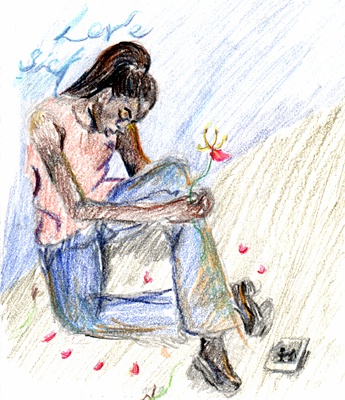 © Sherrell B., Philadelphia, PA