The football game
September 9, 2011
"She's totally in love with you!" I said, stifling a laugh. The band was playing, it was half-time at the Championship football game of the season. Our school, Ridley High, was up 10 points, and the stands were packed even with the chilling temperature of 35 degrees.

"Who?" He asked, confusion apparent in his voice. Looking among the sea of students, parents, and faculty.

"That girl over there," I said, pointing. "The one with the stripped shirt!"

"Lexi? No, she's not, what makes you think that?" He looked at me expectantly.

"Well," I said, leaning back to rest against the next row of the bleachers. "She's looked at you probably ten times in the last five minutes! She can't keep her eyes off of you!" With perfect timing, Lexi stole another glance at Chris, turning away quickly when she saw us watching her.

"That's not true, I'm sure she's just looking at someone else." He said. "Besides, she may just think the shirt I'm wearing is cool or something."

"Come on, Chris, I can tell when people like each other." I said, matter-of-factly.

"All right, then explain it to me, Emily!" He countered.

"Why?!"

"Because, I like this girl and I want to know if she likes me too. So you need to tell me how." He stated. Half time was over now and people were spilling back into the bleachers, but Chris and I, being at the very top, were alone.

"Only if you tell me who the girl is!" I said, with a sideways glance his way.

"How about I tell you who it is, after you explain this to me." He said, turning towards me.

"Okay fine," I sighed. "Well, does she look at you a lot?"

"Uhm, I think so," He said. "But I'm not sure"

"At least once every few minutes?"

"Yes, definitely." He said, playing with a fray on the bottom of his jeans.

"Okay, that's a good sign. Lets see, how often do you guys talk?" I asked, yelling over the sudden cheers of the crowd.

"Pretty much every day."

"For how long?"

"Usually, at least for a couple of hours." He said, looking at me.

"Texting or in person?"

"Both" He answered.

"Okay," I said. "So do you have any classes with her?"

"What does that have to do with anything?" He asked, defensively.

"Answer me!" I said, looking him in the eyes.

"Uhm, yeah, one class." He replied, slowly.

"Does she sit by you, or go to where you are in the room?" I asked.

"Yeah, I guess she does." He leaned back, with the slightest hint of a smile on his face.

"Then make a move!" I laughed, leaning back too.

"Maybe I will." He said.

"So who is she?" I asked.

"I'm not going to tell you." He said, smirking.

"Why not?" I asked, annoyed.

"Because then it can be a surprise." He said, looking at the sky.

I sighed, knowing he wasn't going to tell me. "What are you looking at?" I asked.

"The stars up there, look, they're in the shape of a heart." He said, pointing at the group of stars.

"Wow," I said. "Thats so beautiful. Whoever this girl is, you should go find her."

"Why?" He asked, not taking his eyes off of the sky.

"To show her the stars" I said, looking at him.

"See the thing is," He said, meeting my gaze. "I just did."

Then, like a slow motion scene at the end of a romantic movie, he lifted my chin and kissed me. At that very moment, our team scored the final touchdown, winning the game. The stands erupted with cheers, people were jumping, screaming, and laughing. Chris smiled at me, and I smiled back, kissing him again.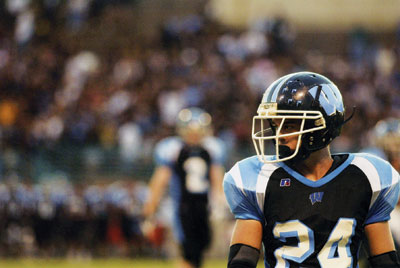 © Graham S., Bethesda, MD