For His Happiness
October 31, 2011
You look in the mirror. And there you are. You're bleeding from your lip and your left eye that is slowly turning purple. You wonder why you did this… why you upset him.
He comes in the bathroom and wraps his arms around your waist. "I'm sorry," he says.
"It's ok," you say. "I was stupid."
"Yes… you were."
You take his hands off you and go down stairs to sit in the couch.
This wasn't the first time he had hit you. The first time was when you had spent "too much time" chatting with one of your friends online. He got jealous and slapped you. You promised not to give anyone more attention then you gave him. But this time a childhood friend had called you and you talked for hours. You tried to delete the phone records but he saw them on the monthly bill anyway. Once again he got jealous. This time he punched you…twice.
All of your friends had told you about his abusive past but you thought you loved him. And you thought he loved you.
He walks down the stairs. "Babe, I told you last time didn't I?" He sits next to you on the couch.
"I know," you say.
"I want you to apologize to me," he says as he sits next to you and takes your hand in his.
"I'm sorry."
"For what?"
"For giving my friends more attention then you."
"Ok," he says and he kisses you on the head. "Don't do that again you hear?"
You sigh. "I won't," you promise. And you lean into his arms.
And this is how you live… with an abusive husband who you are afraid to stand up to. You thought you loved him… and you still do. You want to make him happy, even if that means giving up your own happiness.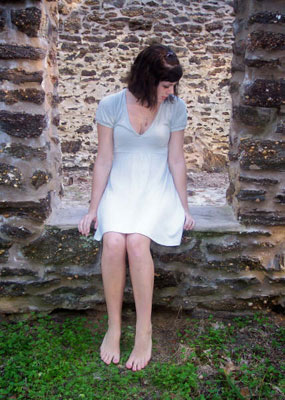 © Katie S., Vineland, NJ