Scattered Thoughts (2)
November 12, 2011
It's been half a year since I last saw him. I miss him so much and constantly I have to work hard to keep the pain from invading. It's because we weren't doing everything right that my parents separated us. I came out and told them but that didn't affect the fact that I would never see him again after that day. I could always call him using a friend's phone so my parents would never know. I had learned how to talk on the phone a little easier. But if they ever found out I wouldn't get the chance to say goodbye before he left for Florida. So I'll wait. Wait one year and 340 days until the day I can date him even if he does live 23 hours and 48 minutes away, 1384.2 miles away.
So until I can see him again, I try to find things to fill the hole in my heart. I lost the markers to the shirt I needed to color. I guess I need new ones. I should've kept track of them, but that's just me I guess, losing everything that I need to be fulfilled.
So I watch that anime show he got me hooked on. I'm almost caught up to him. Episode 323. About 20 episodes to go. When I last saw him he was like the main character. Strong, caring, will do anything to protect the things he loves. So confident and easy to care about. I find myself hoping he hasn't changed.
One time he told me I was like one of the characters on there. I used to hate the thought of that because she was one of the weakest. But being farther in the episodes now, I have realized she's had to endure some of the most painful trials. Maybe that's what he meant. I'm happy to be like her now. Maybe it's a good thing.
I start to get a little bored with the show. The protagonist has been beaten. So I write. I love writing and I have gotten better since I last saw him. At least I hope I have. I think I'd let him see some of my stories. He's seen a little of my writing. One time he saw a story I wrote about him, how sometimes I imagine him throwing rocks at my window. He liked it, but I was still embarrassed. My writing has sounded more and more like my personality lately. It used to sound like someone else, maybe because my life wasn't exciting enough for me. But it's felt more exciting lately and my personality has formed into something a little more beautiful. I want to make a change and the world and it's actually kind of working. Once I get a job in the next few weeks I'm going to start sponsoring a kid through the Compassion Organization and right before Christmas I want to go to Chicago and take people with little to no money out for lunch. I think it would be nice.
Sometimes I still cry when I write, less than I used to, but it's mainly when I'm writing about him. It's like I'm with him again when I write and it's such a beautiful feeling to pretend I'm next to him again. In my dreams when I see him I hide. I don't know why, but I hope I stop running soon. I love seeing his face.
I think our story would make a good book. People would like it if my personality didn't change every time I tried writing the full story of us. It started with a shy girl going to church at a movie theater and when she started going to youth group in 6th grade she formed a crush on the boy there. The only person that befriended her and helped her along. It started at a new year's party and for every church trip she fell harder and harder for him. After a year his girlfriend has broken up with him, leaving his heart shattered. The shy girl, being his best friend, helps him pick up the pieces and in the process he falls in love with her, realizing he had loved her for a long time. They start out a sweet couple but things go wrong. Her need for risk and freedom mixed with his need for the good and bad kinds of love lead them down the wrong path. During a church trip they are consumed by guilt and tell the girl's parents. The parents separate them. The girl has no idea what's going on in the boy's life after her mom found out she had been calling him behind her back, but she has developed a new relationship with God. She hopes the same has happened to him.
That's as far as it can get for now but I hope in the future it's one of those "And they lived happily ever after...."
Fat chance.
I never let myself admit this but I stopped imagining him throwing pebbles at my window. I can't force myself to believe it anymore because if he wanted to come rescue me he would have a long time ago. But that's okay. For once, I want us to be together under the right circumstances with a relationship based on God.
All I know is I'm not considered the shy girl anymore. Not even innocent. I've grown with experience and I no longer have the option to dream crazy. I can't dream that we could run away together because it isn't realistic. It's crazy to even think he'd come back.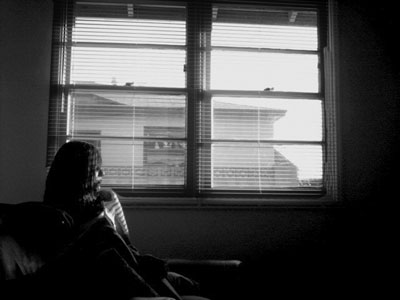 © Roxana R., Tustin, CA