From the Shoestring Memoir
November 9, 2011
I dreamt that dream again- the one with broken glass, bones, and blood. I'm pretty certain that I am making flips in my dad's '65 Mustang, and I'm pretty sure I am dying. When I wake up from the incubus I wash my face and check for scars habitually. I have scars- but I don't know where they came from.
After gym class I knelt down in the empty corridor to tie my favorite red chucks, and that's when she slammed into me and her folder spewed paper everywhere. Before I could stand upright and tell her off I was stunned by her pretty face; my lips remained half-parted from a broken word. Her eyes were pale blue and wide with astonishment, her lips were rose-red, and her amber hair fell in castaneous furls all around her; some strands were plastered to her forehead from earlier exertions. She wore a green frock and hemp bracelets stacked the length of her wrists.
"I'm sorry…I didn't see you." She said softly, swiftly collapsing on her knees to recollect the strewn documents. I quickly stooped down to help, sparing glances at her from the corner of my eyes.
"No. It was totally my fault. You know, I shouldn't have just made myself all tiny in the middle of an empty hallway ha-ha."
She smiled slightly as if she were familiar with my irrational reasoning for the things that seemed to happen to me. "Hmm, thanks for trying to make me feel better."
I laughed stupidly pushing my hair back uneasily as We both rose to our feet once again. She was wearing red converse like me. "Hey I like your shoes, we've got good taste." I blurted. She giggled and nodded languidly "I suppose we do."
To my utter surprise she took one cautious stride and stood finger's length from me, looking into my eyes very curiously and making me very uneasy. "You're…hair is getting longer." She pursed her lips and lifted a shaky hand, ultimately resting her small rose-bud like palm on my Doors T-shirt and bowing her head.
"Um…have, we met before?" I asked breathlessly, cocking my head to try and look her in the eyes.
She balled her hands swiftly and pulled them to her sides, blushing as she did. "Pardon me. I shouldn't have just…you know. I'm going to go now." She blubbered anxiously, spinning on her heel to leave.
"N-no!" I mumbled, and bit my lip wishing I hadn't. She'll think I'm a weirdo now! I kicked myself about it for a split second before she turned back to me with a serene grin forming slowly on her rosy face. "Uh…wait, I mean."
She moved a strand of her hair behind her ear and clasped her hands below her belly, eyeing me with a sense of familiarity again. "I used to get that a lot."
"What?" I smiled
"I used to be asked to wait by the most perfect boy in the world." She murmured slowly.
Great! She was single, I thought. Such a beautiful girl too. "I'm kinda…shocked. You are very…attractive." I remarked awkwardly.
She laughed and her pale eyes seemed to glaze over as she began returning to me slowly. Her lips were sealed firmly as though she were restraining a scream. For some reason, as I watched her pace towards me, I wanted to hold my arms out wide and catch her.
"I'm here again." She laughed, standing close enough that the tips of our shoes nearly touched.
"This is really strange huh?" I laughed.
"I could seriously spend days…just looking into those awesome brown eyes of yours." She whispered with her brows furrowed as she studied me with tears cultivating themselves like dew on her long lashes. "I love you Caden."
I was so confused. Who was this girl, this beautiful girl I had never met before but knew my name and was now proclaiming her love for me. "What's your name?" I asked tentatively.
She bit her lip, anguish-ridden, before she spoke again. "Daniela. But you used to call me Dani." She smoothed her hand across my feverish face. "You used to call me Dani. You used to love me."
She collapsed into my arms. I am with you again. In heaven.
I remembered her then, and I kissed her before we ascended together, because all this time, I had been waiting for her to crash into me in that empty hallway.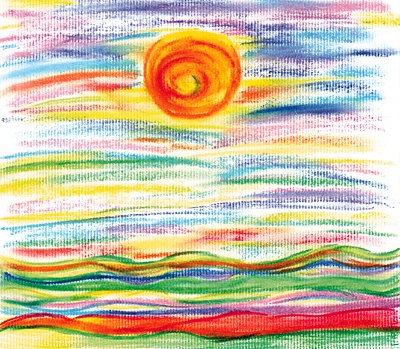 © Jennifer W., Saint Albans, WV