L.N.O.E.E.C.3. Brown Flecks Of Green
November 14, 2011
I'm just going to come out and say it. I can't get over you. I never could, never will. Not that I want to.
The night we met, your eyes were a dark, foresty green. I remember it vividly, it was only five years ago. You flirted with me then. It's okay, I only have to wait until you find this girl's flaw. You eventually find them all.
What's my flaw?
The last girl was too fake, though it took you weeks to see. It took my brother one glance.
You know my brother, remember? He hangs around your family. I used to, too. Before I got booted out, and you brought the next one in.
Where was I?
Ah, your eyes.
At your 12th birthday party, which I threw for you, they glowed a bright, summer grassy green. Innocent, fresh, and many other things. My present to you then was a birthday kiss, both our firsts.
The day you told me you loved me, just years later, now that was different. It was the ofirst time your eyes had flecks of gold. Well, the first time they shone gold.
You've always had gold in your eyes, always. It doesn't always show, your gold. You hide and disguise it, making it look a dirty brown.
You're not dirty, not really. You should'nt hide. Gold is beautiful, it's you. I love those flecks of gold, but they never last.
It's your fault. Let it show. Your real iris is flawless, its beautiful.
Now, staring up at you as you speak of her, your eyes are darker green than the forest, with flecks of brown that is browner than brown.
I wish you'd see how I bring out your true iris.
Those girls, they change your iris. They make it darker, less beautiful. Of course, they can't tell because they've never seen the magnificence of your eyes. They've only seen the change they create.
Won't you save me the trouble of fixing it everytime, of bringing back the gold in your eyes?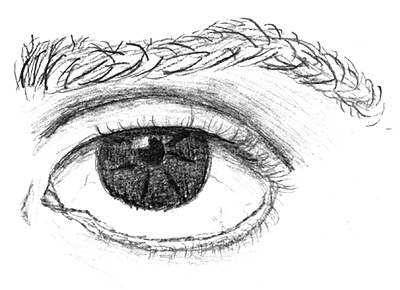 © Anthony R., Wilmington, MA