Lights Can Be Dimmed
December 24, 2011
It is because of light we see. Our eyes are drawn to it like a magnet, through sheer force. In a human eye, light is beautiful. In our eyes it is the one flawless thing of nature that we cannot despise not matter how hard we try. In a way it is a lot like love. It all started with a magnetizing force drawing you into another person, making you whole and happy. Then in the end no matter how hard you try you cannot hate that person no matter how badly you fight, or even if you try to hate them.


I hate both.


"Sophie! Sophie where are you going!?" he called after the me, the one I once knew as my own. He was my light and I was his. That particular night was Christmas eve. There was not a cloud in sight that night. The stars were shining brilliantly, all little immaculate lights dancing in the sky and the moon was the biggest, brightest light of them all.

He was chasing me down the road I lived on. It was a small street with only a few houses on it, but it was grand. Every person who lived on it was in and of themselves a light, and glowing with Christmas spirit. They each decorated their yards with millions out of hundreds of strands of Christmas lights. The lights lined their houses, fences, trees, and yard with its beautiful impertinency.

I had wanted to show him one house. There's one certain house that I had to get a good look at every year on Christmas Eve because it always put me in the Christmas spirit. This year instead of going alone to see it, I had to show him. We shared everything now, and he needed to see this one important piece in my life. I stopped in the middle of the road, staring at its once beautiful simplicity.

"Sophie, what's so important out here on tonight of all nights that you needed to show me? Come on, let's go back inside. It's cold, and I think it's going to start snowing any minute." He said, his words ringing in my ears as if he were right there next to me, repeating them as I thought about them.

"Look." I whispered, pointing into the yard. The yard itself was completely dark and tree covered. The house was off to the right, and you could see all the way to the back of it where the brush divided the property line into the next yard. Right against that brush was a lone, small, insignificant Christmas tree. It stood alone against the night, proud and unafraid to face it. Its light shined bright around itself, casting shadows into the trees around it. The trees themselves became part of the scene perfectly, as if bending in dimension, so that your eyes would wander to the tree. The tree was the standing centerpiece to the yard, the neighborhood and most importantly to me.

"I know, I shouldn't reminisce about such things," I remember saying, as clear as day. "But it's just that, sometimes I feel so small in a world so big, just like that . . ."

The next moment happened so fast, in my memories it all was a blur. I was thrown to the side by something or someone powerful. My *ss hit the curb with a large smack. Then it happened, the un-thinkable. A driver came barreling up the road behind me, while I stupidly admired such insignificant little lights. I didn't notice, but Noah did. At the last second he saved me, pushing me out of the way of the driver, who was clearly intoxicated, and taking the hit himself. All I remember is the flash of the headlights, and the Noah's final cry of pain as his body was mangled under those wrenched tires.

From that moment on I realized there was no one at the other end of my magnet, no one like Noah anyway. There were others, but none like Noah. Love taunts me in that way, sticking its nasty tongue in my direction and flaunting the things I don't have. Now every time I think of lights, I don't think of the bright and beautiful lights of the stars, or the little Christmas tree, I think of the blinding headlights of that driver. I think that in a single instant, he look my boy, my light, my Noah away from me and no matter how hard I want him, or try to find him again I never will. For that, I hate lights, especially Christmas lights. That was the instant I realized lights can be dimmed.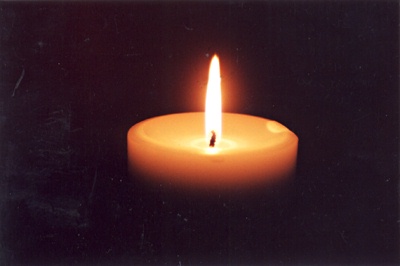 © Ashley D., Philadelphia, PA