Speak Now Part 1
December 16, 2011
___________________________________________
Mr. and Mrs. Aldean request the honor of your presence at the marriage ceremony of their son,
Jack Aldean and Macy Stevenson
Saturday, the seventeenth of October
two thousand and fourteen at four o'clock in the afternoon

An Elegant Church Wedding located:
3831 White Creeks Pike
Nashville, Tennessee
Black Tie Reception to follow at the Riverwood Mansion at six o'clock
1833 Welcome Lane
Nashville, Tennessee
R.S.V.P: 1-615-736-6720
________________________________________

My heels crunched the brittle autumn leaves scattered on the sidewalk, as I anxiously walked towards the church with a feeling of emptiness overtaking my delicate body. I took a deep breathe and tucked a piece of my light wavy hair and turned the corner to face the intricately designed southern church. I was one of the last to arrive but it was intentional, due to possible encounters with Macy's family, or even worse, Jack's. I examined the church, taking in it's surroundings, unconsciously imagining what I would change if it were Jack and I's wedding. Peyton, it's over, I thought to myself. I quietly slipped into the last pew on the left hand side, careful not to make a scene. The church was where Jack and I planned our wedding because our families had been members since we were born. Peyton stop thinking about him, you're over him, I scolded myself in my head, as I looked at Jack, fixing his tie nervously and moving his head around, as if he was looking for something or someone. As much as I tried not to, I couldn't stop looking at his beautiful face, dark eyes, and heart-stopping smile. His head turned in my direction and our eyes connected, making time slow down. It brought me back to all the happiness and love we shared, holding hands wherever we went, cuddling while watching hockey or football. His smile broke my memories as his hypnotizing smile forced me to half smile back at him, trying to hide the pain. The music broke our eye contact, signaling the ceremony was starting.

The pews creaked from the movement of everyone turning around to face the ring bearer, flower girls, and bridesmaids. One by one, as the walked down the aisle, more and more pain filled my body and heart. The traditional music began, the doors reopened and the bride, arm in arm with her father, began slowly walking, evoking gasps from the congregation. I bit my lip, holding back the rivers of tears desperately wanting to overflow. I had to admit, Macy looked beautiful in her white a-line gown with subtle sparkle and embellishment. A typical southern bride, but taken to the next level.

Macy reached the end of the aisle and her father unveiled her face and led her to Jack. They held hands across from each other and the judge began speaking. I fiddled with my fingers, forcing myself to sit through the torture. Jack seemed nervous but I dismissed the thought and figured it was just wedding jitters. They said their vows and I did everything in my power to not listen but I couldn't help but hear a lines words from Jacks. Our love for sports, country music, food, and traveling, are just a few of our commonalities. But no matter what we do, whether it be something we both hate or love, as long as we do it together, I'm happy. I couldn't hold back my tears any longer, and as they spilled, I bolted out of the church and into the fall weather with my ruby red heels in hand, so I could run as fast as I could, to wherever my feet led me.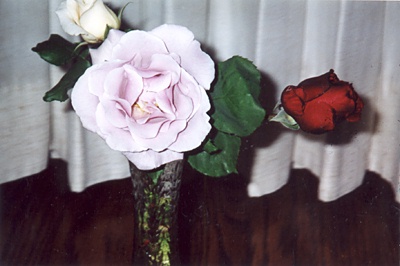 © Molly M., Palmdale, CA