Fire Burns Chapter 1
April 25, 2012
"Hi, my name is Ashton but you probably already know that." He said giving me a small and shy smile. "I was wondering if you could help me find my next class."
Oh, of course! All he wants' is help to his next hour class, typical guy right there. "Sure. What class do you have?" I said looking board. He might have wowed other girls but he can't wow me. Not that easy, But he did have a nice and beautiful ascent.
"I have History with Mr. KaroBack." He said a little stunned. "I appreciate that you will help me."
"Okay. I have that next hour anyway." I said "So….Where are you from, Ashton?"
"England. And it's just Ash." He said looking amused. "My mother and father thought the America's would be a great life adventure for me. I'm heading home after this year only if I don't want to." He shot me a side glance when we were walking to KaroBack's room.
"Well that's good. I guess?" I said, "Oh here we a-"I was cut off by the bell. "Oh man!"
Ash and I ran into the class room as soon as the bell stopped ringing and he took a seat next to me and passed me a note that said:
So are you from here? You look like you're not. I'm very sorry if you are but are you? (Ash)
No, my mom and I just came down 2 months ago and I'm still getting use to the move. So do you have any family down here to stay with? (Ashley)
No, I'm staying at a motel with my brother. (Ash)
Well my mom's in the hospital and I have a whole house to myself so you can stay in my mom's bed room. (Ashley)
That's very nice of you; um this is bad I forgot your name. (Ash) He gave me that look of embarrassment and passed me his last note.
My name is Ashley and I confess I kind of like you. (Ashley) I went to give him the note when Mr. KaroBack grabbed it out of my hand.
"Ashley are you passing notes?" Mr. KaroBack said. Then he read the note out loud. "My name is Ashley and I kind of like you." Then the whole class looked at me and Ashton, bust up laughing, and pointing at me. W-O-R-S-T day of my life right there!
I looked at Mr. KaroBack with a look of horror and ran out of the room holding in the tears of embarrassment. I can't believe he would do that. Ash probably doesn't even like me! Then I heard a voice yelling for me.
"Ashley! Wait!" I heard. Who could it be? Please not Ash.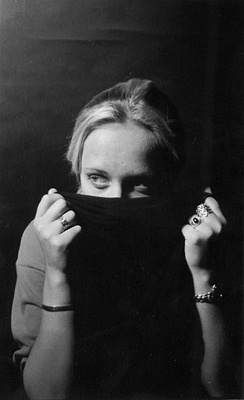 © Hadley B., Marblehead, MA