The Horror Honeymoon
June 4, 2012
It was a dark and stormy night in Aspen, Colorado. But inside the Catholic Church, it was a blissful night as Madison Hanson and Ryan Anson were in the midst of the night of their lives, their romantic wedding.

"Do you, Madison Hanson, take Ryan Anson to be your wedded husband?" the priest asked. "For love or death, better or worse. Till death do you part?"

"I do," Madison sighed happily.

"And do you, Ryan Anson, take Madison Hanson to be your wedded wife?" the priest asked. "For love or death, better or worse. Till death do you part?"

"I do," Ryan murmured softly.

Once they exchanged rings the priest said, "I now pronounce you man and wife. You may kiss the bride."

A strike of lightning and a clap of thunder blazed outsidea they kissed but they didn't care. It was an elated night for them both.

The next day, the pair hopped on a plane and headed into paradise. Hawaii. They rented a car and drove on a long, windy road. Thunder boomed and lightning lit up the sky in a blazing flash as they pulled up to the Victorian style house. The peeling gray paint contrasted with the bright wrap around porch. Something wasn't quite right.

"Uh, Ryan, this doesn't look like paradise, but more like a haunted house," Madison observed nervously.

"No, it's just old," Ryan said confidently.

"But during the drive here we had sunny weather and now it's storming here," Madison cried.

"Weather changes quickly," Ryan remarked calmly. "There's nothing to be scared of."

Inside the house, an old maid greeted them at the door. She was a short, wrinkled lady who wore her white hair in a tight bun. She peered at the couple through her square wire framed glasses that balanced on the tip of her nose. Reluctantly she led them to their bedroom with faded white walls. Inside the cold, gloomy bedroom, Madison and Ryan discovered the cobwebs lurking on the windows and the beds with ragged old sheets and they creaked every time they sat on them.

"It's just an old house," Ryan whispered, getting a bit frightened. "Let's get some rest. Maybe this is all in our heads."

As they slept, several cat sized creepy crawlers emerged to see who their new victims would be.

"Let's snatch them up now," one of them said.

"No. Remember how it goes?" the lead of the pack said. "We give them a few days and then we take one of them for our own."

"The girl looks scrumptious," another said, drooling.

"Yes. I believe she will be the victim," the lead of the pack agreed.

All of a sudden, Madison woke wondering what the noise was about. The little creatures quickly disappeared out the window.

"What's wrong, baby?" Ryan asked, concerned.

"I heard noises," she whispered in a frightened voice.

"Don't worry. It was probably just the wind," he assured her. "Now let's get some rest."

The next morning, Madison was still curious about the noise she believed she heard, so she asked the withered old maid about it.

"Yes, this house is old," the maid responded slowly. "Every guest that has come to stay always asks why this place feels haunted. They tell me that aliens are the creatures lingering among the rooms. They only get a few days until the aliens take a guest's soul. But hey, what do I really know? I mean, I own this place and I'm an old hag. What goes around comes around. Don't worry, it just a rumor!"

Later that day, the newly weds drove into the brighter part of Maui and spent a relaxing day at the beach. As they lounged around with the sun on their faces under a perfect blue sky, the thought of the haunted horror house blew out of their mind. In fact, from sharing kisses to taking romantic pictures of each other, they felt like they were in the paradise they had always dreamed of.

However, later that night, they found themselves experiencing the most horrid night of their lives. At first, Ryan was sleeping peacefully and everything was calm until… "Oh my gosh an alien!" he heard Madison cry.

It was just after midnight when Madison woke up to go to the bathroom. The creepy crawly aliens had snuck in to take another look at their newest victims. But before they could disappear out the window, Madison came out of the bathroom and shrieked. The cat like aliens had been spotted.

"Ryan! Ryan, wake up," Madison screamed.

"What baby? What's wrong?" he muttered, half asleep and turning over.

"The aliens…they're here in the room," she whispered urgently.

"What are you talking about, oh…," the words halted in his throat.

He couldn't move. As Ryan stared at the creeping greenish amorphous creatures, Madison clung to him and tried to shield herself by hiding behind him.

"They're going to take one of our lives," she whispered, terrified.

"Indeed we are," the leader said in a deep grout. "We'll give you a few more days to enjoy the history here before we come back."

"The history of what…dead bodies?" Ryan asked, frightened.

"Exactly," the alien growled. "Enjoy your stay."

The next day, they were terrified. As Ryan and Madison decided to investigate the house, maybe it was all a dream. Gingerly, they opened the door into the room, noticing two bodies lying on the beds. It was weird they thought as they looked at them, there was no blood. The bodies lay there in silence like they'd been put in a deep sleep. But Ryan and Madison had had enough. They needed to get out of the house fast and drive as far away from it as they could.

As they hurried downstairs with their bags, Ryan called, "Well you have a great place here and we really enjoyed ourselves, but we've exceeded our time so we'll leave the check on the counter and be on our way. Goodbye!"

He reached for the door handle, but they couldn't open it. It was locked.

"Uh, the door seems to be locked," Ryan called nervously. "Can you open it?"

They heard the old maid come to the front door and for the first time, Ryan and Madison saw she had red eyes.

"No one goes anywhere," she growled. "Only one of you will make it out here alive, while the other will have their spirit taken from them by the aliens."

"Ryan, is she a robot, human, or zombie?" Madison asked quietly.

"I don't know, baby, but we better get back to our guest room. I don't think we can leave," Ryan whispered.

They ran back to their room and sat on the bed, holding each other, not knowing how much time they'd have together. The owls and bats began their day as night fell upon them. It was the fourth night and to the aliens, it was time.

Ryan woke to go to the bathroom around midnight. Silently, the aliens snuck in to do their dirty work. There was a quick shriek and then all was quiet.

Ryan rushed out of the bathroom, having heard the shriek and knowing it was his wife. He had a strange feeling someone had been in the room while he was gone. Trembling, he walked over to the bed.

"Madison?" he asked nervously. "Baby? Are you okay?"

He sat on the edge of the bed and looked at her. He touched her shoulder, but she didn't move. At that moment, he knew the time had come and gone. The aliens had stolen his wife's spirit away.

He ran his fingers over her cheek and in her hair and kissed her lips gently, but it was no use. She was gone. He had gone to the bathroom and before he could sprint back to the bedroom and save her, the aliens took Madison's spirit away.

All he could do was sit on the bed and cry.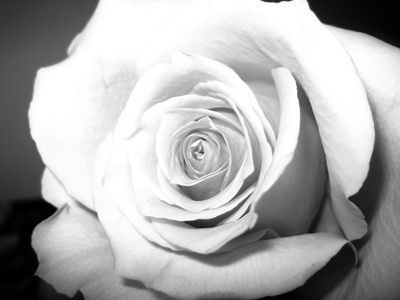 © Kimberly C., Houston, TX