Their Romantic Past
July 5, 2012
"Mommy, would you tell us a bedtime story?" Rebecca Dawson asked.
"Bedtime story? Okay," Haley Dawson responded.Whatt story do you want me to tell tonight?"
"Can you go and get dad?" Rebecca asked.
"Chase?" Haley called down the stairs. "Can you come up to the girls' bedroom?"
"Yes sweetheart?" Chase asked, coming into the room.
"Tell us the story of how you two fell in love," Lynn said.
"Oh does that bring back memories," Haley sighed.
She looked over at Chase as he took her hand.
"Well your father and I met when we were in…," Haley trailed off in loss of when.
"Kindergarten I believe," Chase reminded her.
"Oh yes. Your father actually had a secret crush on me since the day he met me," Haley said. "But of course, we were too young and I couldn't start dating until I was in high school. I was five but we became very close friends."
"How did you know dad was crushing on you?" Lynn asked.
"Well he always wanted to hold my hand and his romance talk swept me off my feet!" Haley gushed. "He took me down to Boulders Beach and we sat on the white sand and watched the clear water crash onto the shore and saw cute penguins waddle around until sunset. He believed at the age we were, that was the most romantic idea he could come up with."
"Oh Haley! I thought you did too!" Chase cried in complaint.
She leaned over and kissend. "I did," she whispered.
"So it was a pretty playful relationship?" Rebecca asked.
"Well, yes," Haley admitted.
"Then came our junior year of high school," Chase told the girls.
It was Haley and Chase's last two years of being in school together, and specifically, their junior year was when their relationship began to get serious.
As playful as their relationship had been, Chase knew they were at the age where they could dig a little deeper.
The day came. It was their junior prom and the only way Chase would finally get Haley to truly be his, was if he asked her to the dance and swept her off her feet.
"Haley," he said a day before the dance. "Be my date to our junior prom."
"Oh Chase. I'd love to!" Haley exclaimed.
As she squealed with her friends, Chase sighed with relief, knowing that after one night dancing away in each others arms, she would be his for real and forever.
The next night, Chase stepped on her porch at seven and when her mom answered the door, Chase greeted her politely when he said, "Good evening Claire."
He stepped into the house and when Haley emerged from her room in a velvet ankle length dress, matching shoes and her hair falling down her back, he was taken aback by her beauty as he escorted her to his car. There was only one thing clear as silence and staring in the car lasted the entire ride to the dance…Chase Bennett Dawson was truly in love with Haley Brianna Anson.
When they arrived at Boulders Beach where they had been coming since they were little kids, they slipped off their shoes and danced in the white sand with the waves crashing to the shore in the background. Soft, romantic music could also be heard as they swayed the night away. As they glided on the sand, Haley began to see everything Chase had done. He worked up to this and now she knew how he truly felt about her and she couldn't help but be in love with him too. With the moon shining in the clear night sky, they danced until midnight.
They took a scenic drive through Chapman's Peak and as the moon radiated over the mountains, Chase couldn't help but think this was the greatest night of his life. When they arrived back on Haley's doorstep, Chase gazed at Haley as the moon glowed upon her face. The image of Chase leaning towards Haley, running his fingers on her cheek, and then sharing their first kiss together lingered in his brain as they stood in silence. It was all too perfect to keep it a dream as he began to make it a reality. He brushed his fingers on her cheek, leaned in and…
"What happened?" Lynn asked excitedly.
"Well, he didn't kiss me that night," Haley said.
"Then how did dad win your heart?" Rebecca asked.
"Well he won my heart, but obstacles got in our way before we were officially a couple," Haley said.
"What kind of obstacles?" Lynn asked.
It was blissful as after that night, Haley and Chase were as happy as ever. Long romantic walks along the sand of Camps Bay, where they let the water nip their toes as they watched the sky turn colors as Chase fell even harder for Haley when he saw the sunset glow upon her face.
But the day came when a geeky boy came to their school and was instantly attracted to Haley. Haley was friendly to the boy, with her sweet disposition, how could she not? She also straight up told the boy she was with Chase, but that was the boy's aim. A few weeks went by before the boy reached his climax.
"Oh no don't continue!" Lynn wailed, burring her face into her pillow. "I can't take it."
"Sweetie, you know there will be a happy ending," Haley said.
"How?" Lynn asked, looking up.
"How do you think your dad and I are here now?" Haley asked gently.
"Oh," Lynn sighed. "Continue."
As the boy began to flirt, Haley tried to back away to keep her distance. She wanted to stay true to her one true love. But all too quickly, things got out of hand. Chase saw what was going on between them and at first; he saw friendliness and knew that was okay because he and Haley had been friends since kindergarten. But as the weeks went on, he noticed too much contact was going on. He was annoyed that the girl he loves was being unfaithful to him. So he ended it.
"Haley," he said heatedly one day after school. "Obviously you care more about that geeky boy than me, so, we're through."
"Oh Chase! Don't think that!" Haley cried. "Danny is a freak. I don't like him."
"Well every time I saw you in the hall with him I'd beg to differ to say you were sending a different message," Chase said. "Have fun with your new boyfriend."
The days were long and hard after that. Danny tried to impress Haley with every possible romantic thing he could but Haley could care less. She found herself looking for Chase and her mind drifting away to him. She couldn't stand having another guy in her life that wasn't Chase, so she spoke her mind.
"Danny," she said a few days after Chase dumped her. "You are a sweet guy, really. But to be honest, I don't love you. My heart belongs to another special guy."
"No! I can change to be the boyfriend you've always wanted. Please let me!" Danny pleaded.
"No. You need to find another girl," Haley said.
Then she walked away.
She whisked herself down to Boulders Beach and Camps Bay every night, in search for Chase to mend her broken heart. She let the waves wash up to her toes and her mind lingered on Chase.
Chase tried to seek himself another girlfriend and although all the girls went gaga over him, he couldn't let any of them into his life. As he walked the streets of Cape Town, he saw smokers outside on the sidewalk, filling the air with thick smoke. Friends walking in clusters and crossing the busy streets when no cars were coming. Couples walking hand in hand looking so smitten and cute. As Chase walked along, he took in all of his surroundings of his hometown and could only be lost in thoughts of his own. He'd been lonely and lost and knew Haley was the only girl he'd ever date. He needed her in his life more than anything in the world.
"More than anything?" Rebecca asked.
"It's true," Chase admitted. "When I fell for your mother, she was and still is the most important thing in my life. That's what falling in love does to people."
There came a day only two weeks after their fight when he couldn't take his misery anymore. He needed to go and apologize if it was the last thing he could do to make him happy.
At sundown, Chase headed down to Camps Bay when the sun was on the brim of the mountains and he saw her. Sitting cross legged on the edge of the ocean.
He went up behind her and whispered, "Hey Haley."
She turned around and smiled. "Hi," she replied.
"I'm sorry," Chase apologized sympathetically.
"I'm sorry too," Haley whispered. "When I realized how much I missed you and how weird Danny was with his cheesy romance, I dumped him."
"I love you," Chase said. "I have since the day we met."
"I love you too," Haley replied. "Since the moment I looked into your eyes at our junior prom, I knew you were crazy for me. Then I couldn't help myself from feeling the same way."
He held his hand out to her and she stood up.
He pulled her closer to him, brushed his fingers on her cheek, and leaned in and…
"And?!!" Lynn and Rebecca asked intensively.
Chase and Haley smiled at each other and looked at their two daughters, knowing this was the moment had been waiting for.
Chase leaned towards her and at last they shared their first, passionate kiss. It was a paradisiacal moment as they both knew they were at last a couple and nothing and no one could come between them again.
"Oh my gosh. So romantic. What a bedtime story," Lynn said.
"And now, maybe you're inspired to find your true love," Haley said.
The two daughters smiled at each other as they watched their parents kiss.
"We sure are," they said together.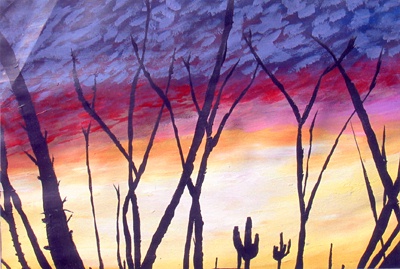 © Kassia C., Phoenix, AZ