Till death did them part
October 18, 2012
"Don't!"

She screamed. The palms of her hand sweat profusely, reducing the friction between her fingers and his arm, forcing her to let go. Let go of him: the man whose name they had sculptured on themselves. Her own body parts were betraying her, but she resisted, for a chance of another life.

She looked up. Nothing was unchanged. He had the same sharp nose, the same bleeding lips, the same eyes that spoke nothing but the truth. This time too, they unveiled the accuracy. But the context was deceiving, it spoke of treachery. It spanned around undervaluing her. It was full of dark and horrendous aims that would lead to a murder tonight. And she knew it, it would be hers. Death was going to do them part tonight.

Her crystal glazed water line told a thousand tales, but if only he had wanted to read them. He was so blind in the fake romance, he never pondered over what truly counts as a gain. She wished he had. She would have been lucky then.

More sweat, less friction, slower pulses and the seconds ticking by. She must beg, must beg him to save her but how could she agree to the deal he had put forward? She could never forget him, never stop being around him, never stop thinking of him…even if she could cease her thoughts on him, how could she make her heart not beat for him?

And then she heard his voice, so full of confidence, so weary though, as if he was tired of her.

"Manaum. Decided, did you? We make the deal then?"

"It is not easy for me" she replied back, her words barely audible, followed by a scream "I LOVE YOU DAMMIT". His betrayal had meant nothing. She could still feel the fire running into her veins through his skin.She tried to drink into the wine, and got intoxicated as before.

More tears, more sobs, more sweat followed. She was running close to her end. She needed to control, or else, she'll lose the chance to bargain properly.

"AND I DON'T" he screamed back. "Do I take it as a no then?"

"No, Dean, wait! Please, have mercy. I love you, truly I do"

"Love me so much as to spoil my life? Do you know how much your love has cost me? I would have lost the whole fortune of my life."

"You care about money only, do you? Dean, I ditched my family for you. I was a millionaire's successor before I lost my heart to you. If only I knew you'd treat me this way …"

"Would have been better if you'd come running along with the money then. Listen sweetheart. I loved you in our early days because you were so sweet and tender and young. But then, life runs on money, not just love. Romance is put to life by money, and when I had a choice how could I have chosen you? Someone who is a billionaire and loves me and wishes to marry me too is preferable to you. I've spent a part of my life with you, I know you're caring and all but I don't get the pleasure she yields me. I'm sorry, but if you don't work fast, you'll be dead no sooner"

"Taking advantage of my helplessness, aren't you? You know I'd give up everything to be beside you. And I wanted you to love me back; I never wanted a payment for my emotions. I wanted you to know that I value you above others; in times of distress, I'll be the last one to leave you alone. I wanted to be someone who would light up the darkest of your days, someone who would illuminate the creepiness of your life. I wanted to fulfill the vow of sticking to you till the very end. Funny how you said the same things to me when we first found love!"

She clasped her fingers more tightly around his arm, hoping she'd be able to melt the iciest portion of his heart.

"Immature, I was. But I want to put it right now." He raised an eyebrow. There were days when she used to laugh at this expression, but it scared her at this moment. Did this mean he had made his ultimate decision?

"Dean, please! Okay, I make the deal. It'll be hard for me to do so, but I will migrate to the north and stay there forever. I'll never come to see you again. You'll regret this…"

"Sigh! Your being alive will still put me in the headlines, once I declare my marriage. Media will publicize my juvenile relationship, in turn damaging my sound reputation again. Can't you die for me baby, just this once?" And he laughed. A high pitched laughter, that echoed throughout the valley, and reverberated in the cliffs she was hanging in. She could the abyss below she will be present in a couple of minutes.

"No! No! I'll change my identity. I'll forget..."

"Sorry babes! You'll have to go. Bye. Sweet dreams, for this sleep will be hell long"

And with a chuckle, he loosened his grip, let go of her hand, of her love, of everything she would have given him if he had ever let her live with her. She had never gained on him, but he had lost her today, unaware that this was his eternal love, not the temporary. He had committed the biggest suicide of his life.

She looked at him for a last glimpse. Even amidst her end, she couldn't have loved him less!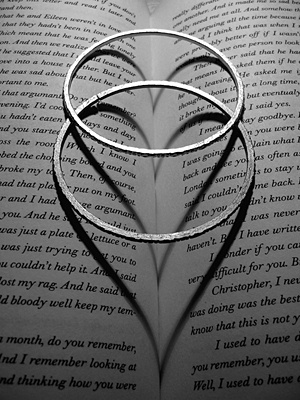 © Julia K., Old Tappan, NJ