What Happens the Second Time Around
November 2, 2012
"So what was that, another one time thing?"

"Is that what you want?"

"…No."

"Me neither… but you'll be gone again soon. What do we do?"

"What are you doing tonight?"

There, you've slipped back into your old spot, right there next to him. It's good to be back, and now you know what you're doing. Like going over a new road for the second time. First it was scary and unpredictable, but this time you know where all the potholes are and even a few shortcuts too.

Things go back where you left off fast. The next time you see him he can hardly keep his hands off you, and you find your fingers just as adventurous. Every move is urgent, each kiss a first or last. Parties are gone to only to be escaped in quiet corners, just the two of you.

Last year it was all fun and games, but now that you both want it back it gets serious. He walks you home late at night, the world rolling out from where you both stand. You stop in the most beautiful spots, places you have seen a thousand times but never with him, never with someone you cared so very deeply for. Until today they were wonderful sights, with him they have become utterly magical. And he, intoxicated by the magic, looks down at you, his unbearably kind brown eyes engulf your face, and he whispers in awe, "I can't believe this is happening to me."

Then there it is, the big step. Alone in his house he sleeps by your side, and how different sleep is next to someone who would never hurt you. His arms cling to you, then loosen their grip as he falls asleep. His breathing is your lullaby. Never before have you felt so safe as your mind turns off and is placed on the nightstand next to his.

You wake up first, and see your roles are switched. Your tiny hands try to reach across him, but he is so much bigger. He faces you, softly sleeping. His face so incredibly blank, and all you can do is stare. Imagine, a year ago I never thought I would see this again, and now it seems I could look forever, you mind's voice whispers. It flickers to all that came between, attempts at friendly meetings, surprised to find yourselves in the other's lives after you thought you would never cross paths again. And now here you are at five o' clock in the morning, memorizing a face that won't ever really leave you. His eyes slant down so gently, his face is so pleasantly round, like mine, you think.

At last he wakes, and you remember why the morning is so sad. He leaves today, this face gone a month at least, and there is nothing to be done. You must go, but he is very tired, and so goodbye is a single drowsy hug. It will have to last a month.

In that month your love begins to grow. You are so very hesitant to call it love, but that is its name. He never leaves your mind, and every day is trudged through to bring you closer to him. He's there, far off, waiting, and I must make it to see him, to tell him how he is everything. He is built up in your mind's eye, each memory a cherished relic felt over a million times to endure another hour without him. How you want to tell him he is in your thoughts, but just wait a month.

Finally it is here, he is here, you are together and…how strange it is. Strange to pair photo shopped memories of a loving couple with the reality of two who are strangers after a month. That is what is wrong you believe. Yes, a month apart is hard for any two people, but we just need time alone. Lunch is in a crowded diner, and he is distant. For him to be physically distant until now was frustrating, for him to be distant when so close is frightening. We just need to escape, you say, and wait until you can.

You are alone, and he looks as you so innocently. Then, his face contorts into an expression you do not recognize, and he says things that cannot be his words. "I love someone, her name is" not yours. "I'm so sorry," don't be, don't do anything to make you sorry. All at once it comes back, why things ended before, for fear of this. For fear of separation leaving room for other loves to grow. Why did it not seem dangerous now?

Pain poisons you. All the light that had shone before shrivels up, and he is the root of it all. Love has turned to pain, and you want him to understand such pain. How to hurt him?

You know your hand stings half as much as his cheek. He cradles it and hides his eyes. He cannot look at what he has made you. You leave him then, and this time forever.

Only no, in fact now he is everywhere. He is in friends' questioning eyes and images in your head. The phantoms of his arms play around your waist, you wake up and now its his eyes that have been gazing on your sleeping face.

The first time had been easy. Easy to end and easy to remember kindly. A second is impossible to forget, seared into the brain along with a bruise to the heart. Seconds are nauseating.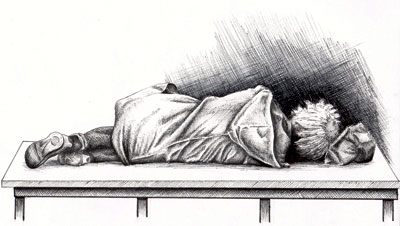 © Devin N., Sherrills Ford, NC