Star-crossed Lovers
November 5, 2012
It was a shady day in the summer of 2014 and Diana Shivers and Elana Smith were sitting under the shadow of an oak tree sipping their milkshakes in silence. It wasn't uncommon of them to be silent. They both had a tendency of dozing off into their memories and thoughts and daydreams. Today, though, they would not have much time to think. Today was the day their life would forever be changed, aand it all started with this...

"Hey, do y'all know where pine high school is?" a voice suddenly asked from in front of them. They looked up at him and Elana nearly gasped in surprise. The guys in front of them were HOT. From all the chick flicks they had seen, they could immediately realize these guys were from over-seas. Elana began to stutter, but managed to say, "Yeah, we go there. We can show you where to go.... R-right, Diana?!?" Diana looked at the guys feeling sort of cautious around them and she shrugged in agreement trying to downplay their surprise. Something about them seemed off. They had that look in their eyes that seemed a bit mysterious, as if they were holding back a secret, but she decided to ignore it.

Diana jumped to her feet then offered a hand to Elana who managed to take it without pouring her chocolate shake on the ground. They threw away their shakes and slung their backpacks over their shoulders. Soon, they were on their way.

"My name is Terry and this is my brother Andrew. We moved here from Romania." Terry smiled as they walked to the school. He had short black hair and dark dark dark DARK eyes. His skin was tan. His voice did hint a slight accent. Hot!
"Cool. We're Elena and Diana. "They said in harmony.
"That is.... how you say it...cool" Terry said with his sexy accent. Diana began to blush, and Elana could hardly keep her eyes off of the handsome Andrew, & him her. He had light brown hair and big, blue eyes that seemed almost like a child's. He had pale skin that contrasted well with his features, and he looked like those models in the magazines. Terry was trying his hardest not to stare at Diana, who was blushing more & more every time their eyes met. They were all quiet for a second, each scolding themselves for being so weak to these strangers. Then this bratty, screechy voice suddenly squealed behind them. They all flinched involuntarily.
" Oooo, Diana, Elena , who are these handsome guys you've caught?" Paige asked, wrapping a manicured hand on Terry's shoulder. Diana seethed in anger.
"Not your next boyfriend" Diana smirked, keeping her cool.
"Hm , I'd like to differ." Paige whispered in Diana's ear as she stepped past her, slidding in front of him. She had always been the pretty girl in the school, but she was a slut. She had pale, flaxen hair and bright blue eyes.
Terry stepped back away and said in a cold tone "In Romania, we call your kind prostitutes, and you are the lowest of lows. Here I don't know if it is the same, but I would rather not deal with you." Paige cried out in anger & smacked him in the face then quickly regained her cool when she saw Andrew, "Hi there, cutie. I'm Paige. What's your name?" she said in her cunning yet slutty voice.

"I'm... How do you say it....? Not interested."

Paige looked at him with a shocked face; he had an innocent look on his face, but his words told a different story.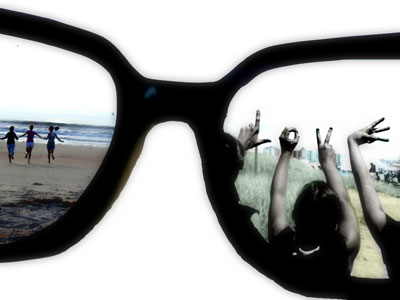 © Christina G., Bedford, NH