Haunted Sweethearts
December 7, 2012
It was nearly Halloween night, and people were already setting up the haunted houses in Gunnison, Colorado. This year was the first Halloween for Shane Upton and Renee Andrews.
"I just want to let you know Shane, that I get easily frightened," Renee told him.
"Well, getting scared is kind of the point of Halloween, love," Shane replied. "We don't have to go out if you really don't want to."
"No. I know how much you love going to haunted houses on Halloween sweetie," Renee said. "I would hate to take that away from you."
"Okay," Shane said. He kissed her gently. "Don't worry. Halloween will be fun. You'll see."
When Halloween night came around, Shane dressed up as Elvis Presley and Renee dressed up as an Egyptian goddess.
"Wow love, I didn't expect you to look so….sexy," Shane said in awe.
"Surprised?" she asked, smiling.
"Sure am," Shane replied. "So, this first house we're going to will be a haunted house. Gunnison does the best haunted houses, and tells the best ghost stories."
"Ghost stories?" Renee asked, shuddering.
"Don't worry. I will be right by your side the entire time," he assured her.
The first house they went to was on Tomichi Street. It was decorated in great detail. They walked inside, and it began. As they walked through the house, there were many scary clowns, and monsters that scared Renee greatly. She, along with the other girls was screaming so loud, and she clung to Shane the entire time. When they finally came to a staircase with hanging dolls, Renee blew a sigh a relief, knowing she could finally relax. The guide however, had another idea.
"At the bottom of this very staircase, there is a legend that a young girl named Carrie died," the guide told them. "She was only about ten years old when she died and most people believe that she was kidnapped and murdered. The people that own this house can often hear her moaning and calling for help. They often talk to her, call her by her name, just so she knows their presence, that they aren't intruders. They often come down here and talk to her, and can sometimes feel a chill from other parts of the house coming from this room."
After they had gone through the entire house, Renee was shaken up.
"Wow, that was scary," she told Shane.
"It wasn't that bad, was it?" Shane asked.
"Didn't you hear me screaming the entire time?" she asked. "And that ghost story scared me out of my mind."
"Well, I appreciate you coming with me," Shane told her. "We don't have to come next time if you don't want to. But I hope you had some fun."
"Yes, I enjoyed hanging out with my Elvis all night," she said.
"And I have one hot Egyptian goddess girlfriend," he complimented her.
"Thanks babe," she sighed.
"Alright love, I'll walk you home," Shane told her.
When they got back to her house on Denver Street, they both gazed at each other for a long time, just savoring the moment.
"Okay love, you should get to bed. It's been a long night," he said.
"I should. Thanks for an interesting night babe," she told him.
He leaned down and kissed her gently. "You're welcome sweetheart," he replied. "Sweet dreams. Don't have nightmares for me, okay?"
"I'll try," she said. "Good night Shane."
"Good night Renee," Shane whispered.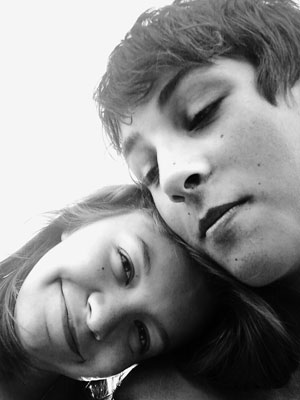 © Mollie D., Stacy, MN