One Evening Stand
September 9, 2013
Kids these days are just mean. They don't know when to quit. Just when you think there is a descent human being out there, you end up with another jerk off who plays games. People are idiots. The more you play with them, the more they will continue. Trust me, I know. I go to school with them every day. If you don't believe me, here is an example. It all started when it was my second to last period of class. People in my school are always fooling around in halls to show they are the perfect jock. I see my friend Lillian at her lockers while listening to music. I quickly smiled as she appears with her joyfulness. I run up against her back with her Ed hardy designed pink shirt. I touched her shoulder and she quickly turns around. She smiles with her yellow lipstick and light green eye shadow. I look at her with her blond hair and blue paints and laugh my ass off.

"Girl! What the hell are you wearing'?"

Lillian laughs again and slaps me on the arm with her huge bangles on.

"I'm wearing your mama's left overs."

I put my hand up as she tried to diss me. I suck my teeth and came with a come back. It is just how we do. I say something mean and she says something even meaner. Lillian and I are very much like peanut butter and jelly. We were both very different but taste so good together. I couldn't live without her, even though I sometimes want to hit her in the face. I walk in silence as I think of a comeback. Once I did, I turned around, snapped my fingers together and shook my head.

" Sorry my mom doesn't dress like a hooker from Elm Street. She has way more class."

Lillian snorted and said something again.

"That's not what she said last night. Ooooooo!"

I laugh at her as we both jump around. I couldn't stay mad at her forever and plus the only reason why she says those things is because she loves me. I blink twice as she stops me from walking to class. She holds up a flyer and gives me a note. I could tell it was bullshit as she holded it. I walked away with my head shaking.

"Come on! This note might be special. What if that person might be the one?"

I roll my eyes again. I am tired of Lillian's predictions of love. I know she means well but lets face it. No boy in this school will date a guy who is a boy in day and a girl in night. Plus the majority of the losers here are homophobic. I don't have time for guys who have a brain the size of a peanut. I need a real man who understands me. Who likes me for me and doesn't want to change me in front of their friends. I know that will take a while but I am worth the wait. Since no one here fits the bill. I will just chill and hangout with Lillian. I roll my eyes as I snatched the paper. My breath almost blew it away by the amount of bullshit that was on it.

"Come on lillian, we don't even know if this is real."

She looks confused. I could tell she forgot my incident three years ago.

"Why not?"

"Because, remember 8th grade."

Lillian shakes her head. She sucks her teeth and touches my two shoulders. She try's to shake the daylights out of me while everyone looks at her crazy. My arms start to become numb and I push her off me.

"COME ON! It was three years ago. You are going to ruin your chance on love by just one insistent."

I look at her with a "b**** are you serious" face. She gave me a puppy dogface and played with my sleeve. I pushed her off me and sat down. I almost wanted to push her until Jason tapped her on the shoulder.

"Lillian. What did I tell you about hanging around fags? You might catch aids."

All of his doughe bag friends laughed as usual. Lillian rolled her eyes and tapped me on the shoulder. She gave me the node and I turned around.

"Lillian, what did I tell you about hanging out with putas like him. You would think he would get girls by now just by all that talk. But you know what is funny, I am gay and I have more girls come to me than you."

Everyone laughed as I said that. The fact I came back with a disc to Jason made everybody go down to his or her knees. I stuck my head out to see if our teacher came but only some dumb over weight women with a red sweater and bright blue mom jeans came in the room. She sits down as her Rosy o' Donald hair cut blowing in the wind. She grabs her marker and writes her name on the board. She turns around and faces the classroom. Her facial expression looked serious. As if she was taking a poop in front of everybody and she was very uncomfortable. She seemed very annoyed. As if she didn't want to be there, I could tell she rather get doughnuts, fart and watch TV all day. But lord knows that's not going to happen. Even though I am happy that my teacher, Ms. Apple button is gone, I am still going to be sick by what the substitute is going to make us do. I roll my eyes and got out my folder. We all watch her speak as she talks by holding us a packet.

"Class. Just because your teacher is not here today, doesn't mean you can sit here and do nothing. You guys have these packets to do by the end of the day, so get to them and make sure you get those answers correct."

The lumpy version of Rosy o'donald, sits near the empty chair that Ms. apple button was supposed to be in. I look at the packet as if it was a huge task. My face started to wrinkle because of my sad expression. I started to do it even though I wanted to spit on it. I continued to do my work as people were talking and conversation. As things started to get extremely quiet, a light hand touched my shoulder. I could tell that he meant business as I looked and saw him over my shoulder. The boy with hazel eyes and caramel with peach skin looked at me as if he saw his favorite dessert. I almost got chills as he removed the hair from my eye. I got closer to him as he took my paper from my desk. I snatched it from his hand and rubbed it carefully. I looked at him as he moved my hair around.

"Can I help you sir?" I said.

He looked at me again and smiled like he was brad pit. I felt so alive as the sun was shining. The sticky Boston air touched my face as the stars hit on this young boys head. He started to open his mouth as I brushed his eye.

"Yes you can! Do you have something I can use to write with?"

I lick my lips with compassion and flirted right back.

"I don't know. What do you need it for?"

He snatched the pen and continued to write something down. I saw a few numbers and looked at it twice. He sent me the paper and walked away. He didn't even tell me his name let alone why he even talked to me. I just couldn't make myself believe some hot sexy guy with hazel eyes, comes to flirt with me and give me his number. How do I know if this is real if I don 't know who he is? Will he come back? Is it all a joke? I keep asking myself a million questions as I was out of space. The teacher looked at me and gave me the evil eyes. She rolled her eyes and sucked her teeth. I could say something really rude to her and slap the fat out of her but I just leave it alone and pass it to Lillian. She turns around and jumps in joy, as she see's the paper in her hand.

"See! I told you that someone good could come around. You just have to trust me."

I rolled my eyes as she nodded her head.

"Come on. I just met him."

Lillian interrupted me. She held up the piece of paper as if she it was the golden ticket.

"Please, if you miss on this piece of ass than you are an idiot."

"But…"

"I think you should go. Take a chance. What bad can happen?"

I think for a second as she holds up the paper. She is right; I should give it a chance. I mean it was just one experience. Plus, I shouldn't waste a good time on bitterness. So I took the piece of paper and stared at it. I look at it with his fingerprints. As I kept looking at it, his face popped up and I saw those hazel eyes and those pink full lips. I smell it to see if it was true and it smelled like hope and happiness. I finally looked up at liana and made my decision.

"Ok, lets do it."

I looked at the note and read it. It said to meet him at Park Street near downtown and bring something beautiful. He sighed his name with a smiley face and then put his number. I quickly grinned to myself and put own my best outfit. I carried my mbta pass and went on the bus that said 40 on it. I quickly checked my phone to see if I should call him. I think twice before dialing the number. I wanted to quit but then decided to go for it. I text him first and wait for his reply. He sent it right away, leaving me speechless.

He was so smooth through his words I fainted with the phone. We kept texting each other back and forth until I reached my destination. I get off the bus and go on the orange line. The bus opened its doors as I was right in the middle of downtown Boston. I saw the boy with the hazel eyes stare at me. He was so breathe taking I just wanted to kiss him all over. He took my hand and brings me to the park. We just looked at each other until he got on one knee.

"I'm glad you came."

I look at him and smiled.

"Me too!"

"I always wanted to be with you forever."

I looked at him blankly as he pulled his phone out of his pocket. I didn't know what to expect until he pulled out video. He went to YouTube and clicked on a title that said boy in day and girl in night. The video started playing and I say me in it. I started to shiver and I didn't' know what to do until he looked into my eyes. He unbuckles his paints and UN button his shirt. He takes my hand and says.

"I won't tell if you won't."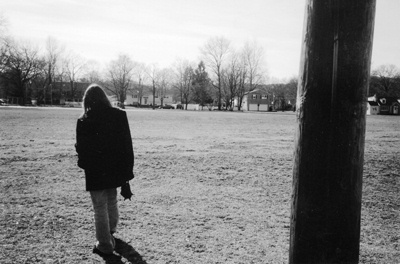 © Rosalie P., Pompton Plains, NJ