The Story of The Moon
February 15, 2014
Once there was a little girl. Her name was Arianna. Arianna loved the moon very much. She drew it in her notebooks. She watched it every night. She loved it.

In the same town as Arianna, there was a little boy. His name was Ansia. Ansia loved the little girl very much. He wrote her name in his notebooks. He watched her during class. He loved her.

Ansia knew Arianna loved the moon, and he was jealous of it getting her attention. One night, he went out to the meadows, where he had a clear view of the night sky. "Oh Moon! I hate you! I hate you!" he screamed, hoping that maybe, just maybe,it would help. There was nothing. He slumped onto the grass, starting to cry. The night sky was so beautiful, except for the moon. The moon was just a ugly lump of rock, reflecting the sun's beauty and light. Why did she love it? Suddenly, he saw a star fall from the sky. He squinted his eyes shut, and he wished, "Oh Star, please let me have my wish. Please let Arianna love me as much as she loves the moon."

Now little did Ansia know, the star was young. And everybody knows young stars are mischievous. His wish would come true. But that will be later.

Ansia opened his eyes. He didn't feel any different. It was just a superstition. No magic here. He walked home. His little brother was already asleep. Ansia quietly slipped into his own bed and fell asleep, crying.

The next night, Ansia woke up. He could see everything. He could see the mountains, and the seas, and the golden deserts. But it was all so very dark. And he was up high. Where was he? He then realized, the star gave him his wish. Arianna loved him as much as the moon now, because he was the moon. He scoured the Earth, looking for her. She sat on the ground, drawing in her notebook. He looked very hard, hoping to see drawings of him, the moon. In loopy print, all over the page, Arianna had written, "Ansia." She loved him but could never be with him. Because he was the moon.

For the rest of eternity, Ansia watched the little girl. He watched her grow up. He watched her parents arrange a marriage between her and his little brother. He could almost imagine it was him, down there, kissing the bride. But he was only an ugly lump of rock, reflecting the sun's beauty and light.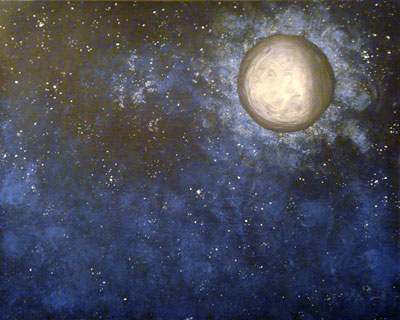 © Allison H., Vancouver, WA