Rest in Peace
April 22, 2014
It's funny how people try to simplify something that is simply not simple. Love isn't some cookie-cutter scene you see on TV. It doesn't have a black and white definition; there is no checklist you can complete and magically obtain that perfect fairytale love that turns little girls' brains into mushy paste. You just can't. You either find it or you don't. And you either find the right kind or, well, you find Jamie Slater.

I was thirteen at the time, drowning in my own naiveté and innocence, and he walked into my eighth grade history class. And that was it. I was a goner. I didn't know it at the time, but Jamie Slater had just plunged his hand into my chest and snatched my heart out like it was his to steal.

Now, I don't want to mislead you. It wasn't one of those romantic comedy moments. He didn't walk in drenched in rain or shirtless or anything. He wasn't even that attractive back then. But his faced turned red when he smiled. And he made me laugh.

I spent the next nine months sitting beside him, listening to him ask me millions of questions he already knew the answers to, and staring at his feet propped on my desk. I sat there stifling laughs and hiding my smiles as the teacher lectured and he murmured commentary in my ear. I sat there pretending I wasn't in love with him because I was thirteen, and well, that's what you do.

As the year went by, I got it in my head that he liked me. It didn't help that everyone around me planted the thought in my brain, too. I listened to them. And I even started to believe it. Just a little.

Then he got a girlfriend. And, in case you were wondering, it wasn't me.

So I had to sit next to him with his stupid feet on my desk, listening to his stupid questions, trying not to laugh at his stupid jokes all while in the back of my mind I knew I wasn't the girl he cared about impressing. I never was.

They broke up a few weeks later because, apparently, not all middle school relationships are eternal bonds.

I got hopeful, or, for a better choice of words, I got stupid again.

But this time, it wasn't he or some blonde girl that ripped my heart out. It was the car that crashed into his dad's truck on the highway a week before summer vacation. The one that threw him from the windshield and took everything away.

That car took away the funny commentary and our inside jokes and his millions of questions and those ratty shoes I'd gotten so used to seeing on my desk.

They said he died on the scene. Here one minute, gone the next.

I started high school the next fall and sat next to some guy I didn't know. I suppose he was sort of gorgeous, but at the time, I honestly didn't notice. Because he wasn't funny. And he didn't put his feet on my desk. He didn't ask me questions he already knew the answers to. And his face didn't turn red when he smiled.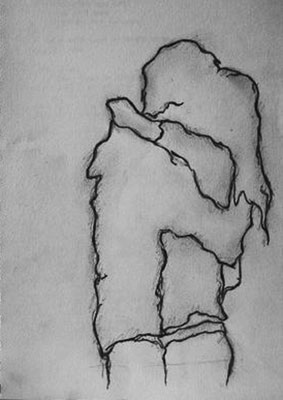 © Nicole B., Newcastle, WA