When the last leaf fell
May 18, 2015
The man stared out the window, his eyes empty and unfocused. He sipped on the warm cup of tea he'd made that morning. Most of the trees on his yard had no leaves. Only one maple tree had a leaf barely hanging on the lowest branch.
He shook his head and tore his gaze away from the tree.
At the same moment, his stomach groaned. He glanced at the clock and stood up only to fall back down. Sighing, he ran his hand over his hair. His hair was sprinkled with gray and brushed down neatly. He fixed his tie and shirt before standing up again. As he sat down on his armchair, he called out her name.
There was no reply.
He turned around and met her eyes. He called to her, this time with a slight smile that she rarely saw.

The woman in the picture stayed silent. Only the ring on her finger, the very one he'd given her, shone. His eyes moved to the picture next to her's. A group of young men grinned right back at him. At the corner of the picture in his writing was "Time Capsule".

The man smiled, but the smile didn't reach his eyes. He sighed and the sound echoed around the house. He jumped as he felt the vibration in his pocket and picked up the call.

"Mr. Baker, I'm very sorry to inform you that Mr. Peterson's funeral is tomorrow. He had passed away this morning."

Tears streamed down his wrinkled face. Outside, the wind blew away the last leaf. He grabbed tightly onto his cup. The warmth was gone.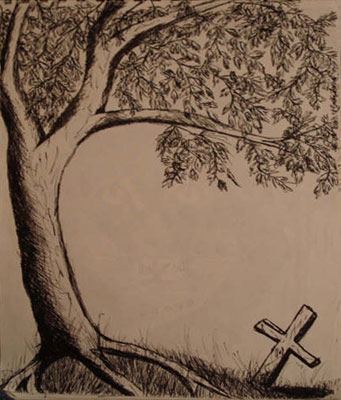 © Courtney K., Bethel Park, PA