First Kiss
July 2, 2015
They sat together, silent, never speaking. Although they were always together, a bridge separated them from ever touching. It was as if, when they touched, a force field would appear and block them.
But being together was all they needed.
Their quiet lips and still bodies, watching each other through eyes of cold stone.
Even though they were the same, they were different in many ways.
For one, she wasn't into hot guys. She liked the quieter types, the ones who watched her and after class commented on her low-necked dress. Their voices were always shaky but she thought they were cute, for some reason she didn't know.
He was interested in girly girls. She was too hot and smart for him. He was a guinea pig, sniffing, waiting for the right moment to get on the wheel and start spinning on the circle of love. He wanted smarter, geeky girls who liked math and poetry and love songs.
But she was okay.
He knew it was hard to find both of his preferred qualities in one girl. But he found someone who came close. In fact, if she liked love songs, she would be the one.
But she could never say yes, even if he asked.
She couldn't be his Mrs. Perfect.
She liked him. But their relationship could never be more than friends, partly the barrier and partly the fact they were not meant for each other.
He studied his palms and looked out to sea, the bright sun coloring the ocean.
She wanted it. She needed it. He was going away the next day. They might not get the chance again.
She tapped him on the shoulder, staring him in the eyes. She looked at him for what seemed like forever, until he turned.
He looked up.
Then their noses were almost touching. He tilted his head for her, so they could kiss. Then their lips touched. It was warm and gooey, and his were wonderful. How could she have waited so long for this moment! She didn't know.
But now it was here, and she wanted more.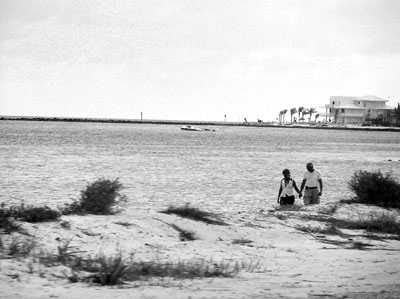 © Edgard B., Coral Springs, FL