Mortality Wine
January 3, 2018
He had promised me that he would return from war in time to claim my hand at the ball, but he had not yet come. Every carriage that arrived gave me hope that would fade into desolation and sadness.
The clock chimed a warning that the ball was about to begin. Soon I would have to leave my post and sit on my golden throne. What if he didn't show up? If he didn't show up my father, soon to pass away from sickness, would choose a stranger that would link me to another country and i would have to calm the sea of yearning for Aron, my one true love.
Yet another bell chimed and guards came to escort me to the ballroom. I followed as dispair filled my entire soul. Fate did not smile down on mine and Aron's love.
Everyone bowed as i gracefully climbed the steps and sat down. My face was calm and collected, but inside a storm of anxiety burned. I watched dance after dance hoping that Aron's face would shine through the crowd; nevertheless, it never seemed to happen. Blissful music rained down from the balcony where the musicians were. Everything seemed perfect to the guests, but it was not so.
Guards busted into the ballroom. " Your highness we have just found a carriage off to the side of the road," My heart beat hard in my chest, but I kept a look of poise and wisdom in my face.
"We went to see if anyone was in it and...." Both guards looked at each other as if to see if it was safe to continue. "Please continue." I whispered.
One of the guards stepped forward. "I'm sorry your highness, but he is dead."
They didn't need to say they name because i already knew who they were talking about. I couldn't control my tears as they rippled down my face, and onto the silky ballgown that i wore.
The guards slowly escorted everyone out so that I could mourn in peace. How unfortunate and dreadful this was. I had lost my sweetheart for all eternity, and was doomed to wed another. I ran to my room and draped myself across the bed. I stayed there for several days.
Finally I came out from my room and wandered the halls aimlessly reminiscing on the days when Aron would dance with me through every corridor. I Tried to remember his warm embrace as i strolled through the palace gardens in the crisp air. I missed him. I missed him more then the world itself.
I got the Idea on the night of Aron's funeral. I was clinging on to his uniform, and looking into his coffin, when a woman walked up to me. She said she was sorry for my loss, but that she had something that could bring Aron back to me. I begged her to tell me what it was. She held up a blue vial filled with black liquid. She called it Mortality wine. All I had to do was drink half of the blue liquid while going to the spot me and Aron met. There I would have to sprinkle the rest into the ground
I shuffled into the ballroom. I wanted to be in my best dress when Aron saw me again so i had put on my favorite blue gown. I stood in the exact spot that we had first met and Drank the first half of the mortality wine, then I sprinkled the rest of the liquid on the ground. A wave of heat washed over me. I suddenly felt dizzy. I fell to the floor and watched as servants poured over me.
A doctor saw the liquid on the floor and looked alarmed. I felt short of breath. Faces swirled around me, and most of them I didn't know until I saw Aron. His baby blue eyes stared at me, and he smiled sweetly as he reached out his hand toward me. I sat up and took his hand. He kissed me softly and started to dance with me all the way down into a hallway that I'd never seen before.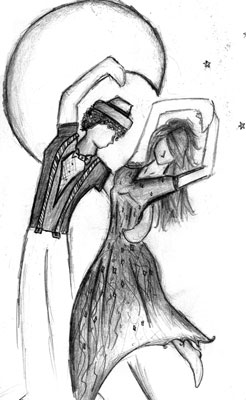 © Megan L., Everson, WA