Silver rain
December 19, 2019
I watch from my lone bedroom window as silver droplets pour from the heavens, like crystalline angel tears cascading from the dark clouds above. From the safety of my room behind me I stare into the city just beyond the wet glass. Skyscrapers spiraling into the sky above the clouds, taller than anything I've ever seen before.
The entire city is a massive man-made wilderness of concrete and metal. It never rests, buzzing with life whether it is human or not, it does not matter. It is all new and unfamiliar to me. So many people reside here, thousands, no millions of people live and just exist here. I feel so small compared to it all, like a tiny microscopic organism living on the windowsill I find myself leaning onto.
"Lily?" I snap back to reality as my cat, Lester, leaps onto the windowsill to watch the rain with me, "It's beautiful isn't it?" he purrs, letting me run my fingers through his ong seal grey fur.
"Yeah I've never seen anything like it," I confess, still staring into the cityscape.
"Too bad it is still raining. We should definitely explore once it stops," Lester suggested sitting down.
"Of course," I giggle, ruffling the fur on the top of his tiny cat head, "We wouldn't want to live in a city and never know its streets. I'm just afraid we'll get lost,"
"That's half the fun," he smiles finally; as we watch the silver rain continue to fall onto the busy streets below.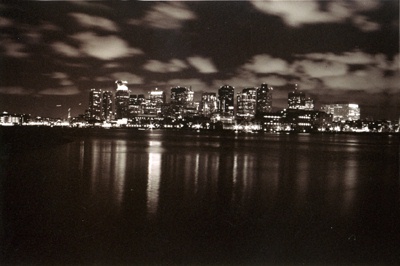 © Hoang P., Rochester, NY