A Heavenly Surprise
May 30, 2021
Cat Cory had no intention of dying, but death is often something that just happens. One day while she was on her daily walk-in-the-fog a drunk driver rammed into her. That was that.
So, now Cat is dead.
Really, it was not that painful. She just opened her eyes after the accident and — poof! — she was standing (or was she floating?) before the gates of Heaven. Well, she suspected that it was Heaven. Cat Cory did grow up in a Christian town — not that she considers herself Christian — and assumed that this was Heaven and she was about to be greeted by God.
Terrific, and also how very convenient for the newly departed.
Suddenly, a loud, deep voice erupts and Cat trembles.
"Do you believe that pineapple pizza should exist?" speaks the voice ominously.
"Umm… wh-y why?" Cat stutters, terrified.
"Your answer determines your fate -- passage to the underworld or passage to paradise."
Once again, Cat Cory connoted that this was the Christian God, and forced out, "But but what about the Ten Commandments?"
"That's old school. It's 2021. So what is your answer?"
Cat Cory hesitantly mumbles, "Uhh. I like it."
The booming voice seems satisfied. "Excellent. Now here is your second question: if you ate yourself would you become twice as big, stay the same size, or disappear?"
"Stay the same s-size," Cat quivers.
"Final question: can vegetarians eat animal crackers?"
"Yes."
The gates swing open, and Cat is indeed greeted by God in person. In fact, he really just looks like a short man with a long white beard. The only thing that told Cat that this was God was the golden name plate attached to his robe that stated 'G.O.D.', which apparently stood for 'Godfather Of Dinosaurs.'
God holds a clipboard and flips through the papers. Cat Cory, being taller, is able to read the label at the top of each paper. It expounds 'The Fresh Dead.'
"Aha. Here you are — Catherine Cory," thunders God. Even though the speaker is puny, his voice seemed to emit from every direction.
"That's me," said Cat.
"I know that you are Catherine. It says so right here!" rumbles God. "Now that you are in paradise — choose your heaven! Over there you have Nirvana, to the right of that is Inner Peace. Off to the side you have Christian Heaven, Hindu's Reincarnation, Jannah for Muslims, and Shamayim for Jews. In the back there's more, so take your pick." God leans in closer to Cat Cory as if he is about to tell her something very important. She pricks her ears. "If you want my opinion, which most people value considering my status, they're all pretty much the same."
Cat nods slowly, not exactly understanding, but she is too fearful to ask.
This was crazy. Here she was, dead, and she was being offered paradises like ice cream flavors.
"Could you do a favor for me?" inquires God.
"Sure. I guess." What else did Cat have to do?
"Jesus is over there selling heavenly phones," informs God. Cat looks over to see a sort of cloud-shaped marketplace. "Could you tell him that I finally found someone who thinks pineapple pizza is delicious. Could you do that?"
Cat nods again. She takes a step towards the stalls, each selling an assortment of things (all titled 'heavenly' something), but instead of walking she glides over.
"Come get your HEAVENLY PHONES," sings Jesus on his mass of water particles shaped like a device. "THESE will NEVER run out of batteries! They have a LIFETIME WARRANTY. They're UNBREAKABLE, WATER PROOF, wi-fiI FOREVER at FULL BARS, and SUPER STYLISH. HEAVENLY PHONES! Come get your HEAVENLY PHONES!"
Cat comes up to him shyly and says, "God told me to tell you that pineapple pizza tastes delectable."
Jesus sighs. "Well tell God that pineapples and pizza were NEVER supposed to meet."
Cat relays the message back to God, and God sighs, too. "Someday that human will eat it. Someday. He'll only live forever." God turns back to Cat Cory and speaks in his giant voice, "You can be dismissed. Go and get yourself an iphone 700 or some bubble tea or skinny jeans or whatever you were interested in before you died. Have fun."
Cat Cory was rather relieved when a newly dead person appeared behind the gate and God rushed over to ask them the all important Three Questions. Cat wandered/floated about, feeling rather surprised that this was heaven.
It seemed an awful lot like normal living -- just… better. She shrugged off any insecurities and continued her exploration.
Well, at least she had wi-fi. Thank God.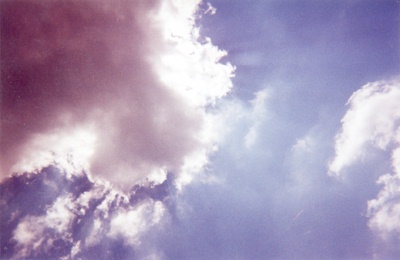 © Kena A., Huntsville, AL