The Lucky Ones- Chapter 1
October 22, 2021

I watch, impassive, as the child screams for her mother. None of us move a muscle. The woman is dragged to the front, tearful. The soldiers hold her arm in place. I want to flinch, want to look away, but I dare not. The terror of being caught looking away is worse than watching this stranger's pain.
They take her fingerprints. The screen scans green and lights up with a face. The same face as hers, but smiling, well-groomed, with straight teeth and perfect hair. And scars. Three of them, down her cheek. I'm close enough to see the damage that has been done to the woman on the screen.
Her sobs grow louder, and the child screams again. The two soldiers release the woman, and she returns to her child, clutching the little girl close. Both soldiers turn sharply and march away.
This woman committed an infraction against the government- she stole an extra ration. Presumably to feed her child. She will not be punished. No one here is ever punished. We aren't confined or scarred or starved more than usual. Another will pay the price for her.
Everyone is born with an identical twin. At birth, you are separated. One is the Lucky, brought to the City, where they are adopted by other Luckies and brought up in luxury. Luckies, of course, aren't allowed to have children- otherwise, there would be too many Luckies. Everyone else is left with their family, to live a life of manual labor.
If a child commits an infraction, their Lucky will be suitably punished. If an adult commits an infraction, their Lucky and all of their descendents' Luckies will face the punishment. This woman just doomed her twin and her Lucky child to a year in Confinement- prison with reduced rations.
Everyone cares about their Lucky. Luckies must be taken care of, because, if your Lucky dies, you will be executed. Adults can survive a year of prison with reduced food, but a five-year-old? The woman knows the stakes. She holds her child tightly, as if that will protect her when her Lucky dies. Now, all they can do is work through the night, trying to produce more than their quotas in order to sell them and earn a bribe to get the child out of prison. The Luckies are never told why they're in trouble, just that their Unlucky disobeyed.
Two new soldiers enter, and we stand at attention in our rows again. They call out a new number, the next infraction.
"B-181997. Wanted for speaking against the government. Punishment: End of Bloodline; summary execution of all Lucky descendents, consequently, summary execution of all Unlucky descendents."
I would have stood still and let it happen. I hate that about myself. I am a coward. Hiding behind the rows of faces, I would have allowed this person's children to be dragged out and executed. Except for one thing.
I am B-281997.
That man is my father.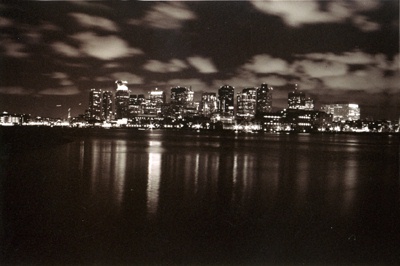 © Hoang P., Rochester, NY