Black Lipstick
May 30, 2009
I stood on the balcony of my New York City apartment

Looking down at the people.

The young maid came in and asked,

"Old lady, why are you always depressed?

Why do I find tear stains on your pillow

And never an empty house?"

My face turned somber

As I thought of my heartache from the past.





***********************

He was never alone.

Always had a joke to tell.

I don't know why I was attracted to him.

Maybe it was his bright smile.

Perhaps it was his passion for music.

He never understood me.

In my antisocialist ways, I made sure people stayed away.

But, he broke through my spell and

Picked me up out of isolation.

He saved my life

And captured my heart.

We were married directly after college.

Our life was always wonderful.

No, not perfect.

Just wonderful.





**********************

Willow was our first and only child.

I never dreamt of ever having children.

After Willow was born,

I realized I needed her more than I thought I would.

She had beautiful red hair

Hanging long and wavy.

Shimmering in the sun.

Her fair skin

Like an angel.

Her father's romantic brown eyes.

However, her innocence was her true beauty.

The way she loved

And laughed.

How she thought the world was perfect.

How she believed in God.

Her heart had never been broken.

She had never shed a tear.

She loved everything.

In return, everything loved her.






**********************

Unfortunately, life is so cruel.

I remember laughing with my ten year old Willow.

My husband by my side.

Watching those classic Disney movies.

Then, I got the news.

My beloved brother hung himself

And my life melted in horror.

His face was burned in my brain.

His laugh echoed through my ears.

But, my brother was dead.

No matter how much I wanted it to be,

My brother would not come back.

At his funeral, everyone cried as normal

As to me who ripped at the ground and screamed to him,

"How could you do this to me!"

Of course, my husband tried his best to soothe me.

He wrapped his arm around me and

Said everything would be alright.

But, I knew he was wrong.

How could it be okay?

How could it anything be fine after suicide?




**********************

I couldn't get up out of bed the next morning.

I couldn't eat.

And,

On my good days,

I binged on the everything in the refrigerator

And never slept.

It was killing me to live in my brother's hometown.

So, I left a note for my family and

Disappeared in the midnight.

I woke up in NYC.

Life went on as normal in my new home

Until I formed my wall,

My barrier.


The seclusion I used to live in was now permanent.

So, I never enjoyed the beautiful New York.

I locked myself in my room.

The horror of my brother's death had worn away,

But the guilt of leaving my family had replaced it.

At first, I received letters from Willow,

Writing how she missed me so.

My love wrote as well,

Begging me to come back.

But, I rejected the letters

And soon they stopped coming.





*******************

After eight years, I had the courage to come back.

I found the record company where my husband worked.

It was his dream

To be around music.

I knew that much

Since I soon learned I knew nothing else.

I came to his work

In just enough time to see him kiss a pretty, young blonde.

My eyes widened.

When he caught sight of me, his eyes did the same.

He ran towards me and asked,

"Why are you here?"

I knew it was my own fault

For being gone so long.

But, I cried just the same

For I knew

He'd never come back to me.

I demanded to know where Willow was.

I needed to know if my beloved daughter had changed.




*********************

I stood at the gate of her high school.

The time was three o'clock

And the kids were out of school.

Suddenly, I saw it.

A figure dressed in black

From head to toe.

Black clothes

Black hair

Black make-up

Black lipstick

I cried out to the figure,

"Willow!"

It turned around.

Yes, it was Willow

But not the way I remembered her.

She had a dozen rings on her face

And wore a low-cut top.

Her arms and legs were covered in scars.

All her friends looked identical.

She knew who I was.

And, by her awful glares,

My daughter hated me.

That's when Willow's beautiful brown eyes

Turned black.




********************

So,

You who reads this:

Don't be like me.

Don't flee the scene

Or walk away from your battle.

Always stand strong

Because the job of a coward is a lonely one.

If you never fight,

You never win.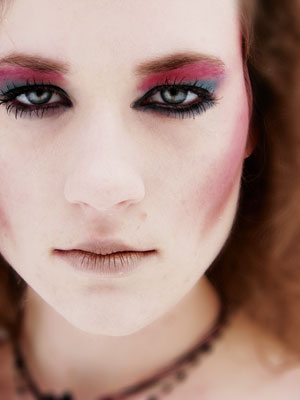 © Elizabeth H., San Bernardino, CA