When Time Stops Part 1: The Accident
December 7, 2009
December 11, 2008.
That day was a mark in history, my history. It changed my life and the future ahead of it. That last glance, my last words, haunt me to this day. I would do anything to go back and erase all the things that I said. I wish I could have said a goodbye, a simple "I love you."

The morning of the tragedy was like any other morning (but those afterward would never be the same.) At six o'clock, my mother walks into my room, turning the bright blinding light on and snatching the covers off my body. She starts her daily morning encore of phrases:
"Time for school."
"Wake up, Summer."
"Time to get up."
The would gradually grow impatient after my repeating "Just five more minutes."
"We're going to be late!"
"Hurry up and get out of bed, Summer!"
My mother has always told people of how dreadful each morning is, trying to get me up.
I reached over and pulled the covers back over my head.
"Five more minutes!"
She groaned and stomped away, heading for the kitchen to conjure up a quick breakfast.
After my regretful wish of five minutes passed, I heard my name traveling across the house and into my eardrums. I finally got up enough energy to crawl out of bed and down the hallway. I stopped at the second floor landing to yawn and stretch before my energy-consuming descent down the steep staircase.
"Finally. you're up," Mom said as I plopped down at the kitchen table and took a bite into the blueberry Pop-tart on the late in front of me. She leaned against the counter, watching me eat as she sipped her coffee. I remember her smooth face. It was different from all my friend's mothers'. My mom's face had no wrinkles, no creases. It was perfect, as if she was just twenty. She was the beautiful mother in the neighborhood. The one who's glance would melt a man's heart. My father was always considered extremely lucky.
I finished my breakfast and got up. Later, I realized I could have given her a hug or said something nice, like a thanks for breakfast. But the fact was that I didn't, and I can never change that.
I trudged back upstairs fully awake now, and got ready for school. Thirty minutes later and we were driving to school.
"You got everything?" she asked.
"What, do you think I'm that irresponsible?" I snapped. Why did I say that?
"No," she said innocently, just asking.
I was about to say something even more hurtful when a car slid in front of us as we crossed an intersection. I heard a crash and everything went black.

To be continued...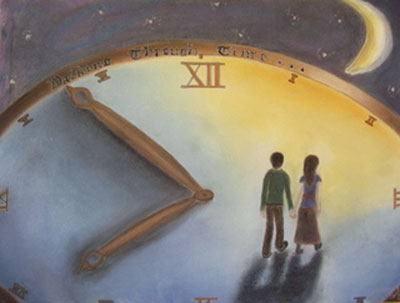 © Carollynn G., Hawthorne, NY