The Grey Room
April 9, 2010
Walk the path that leads up the hill towards the house, walk up the three front steps, through the front door, up the thirteen steps, down the too thin corridor, and up the spiral staircase; that is where you will find the grey room. The grey room itself is barely grey and barely a room. Its walls are cluttered with windows of every shape and size. Some windows stretch from the floor to the ceiling and some are scarcely the size of a child's hand.

The room is not filled with many signs of human life, only the bed and the floor serve as testimony to the fact that this room has been seen by human eyes. Pressed against the back wall, the only wall without any windows, is a single canopy bed. Twisting, elegant, ebony iron creates foliage adorning the bed in an illusion that makes it look as if the iron is writhing and weaving right before your eyes. A threadbare, white sheet drapes overtop and down the sides. The hardwood floor is soft, discolored, and scarred from years of pacing feet, dancing, and light. There are small grey cobwebs in the corners and a thin layer of dust on the floor and window frames but you will never see a more beautiful room than this one.

Through the windows, you can witness the world as it turns. You can say goodnight to the moon through the windows on the left and good morning to the sun through the windows on the right. The sunlight that surges through the windows reflects off the glass and the faded luster of the old metallic grey paint that fills the cracks between window frames creating a rainbow that fills the entire room. At night, the stars and the moon dance with the wind and the canopy sheet and its shadows.

The room is not grey and lifeless but filled with colors and reflections of the world. So as you walk down the spiral staircase, down the too thin corridor, down the thirteen steps, out the front door, down the front steps, and walk the path down the hill, know that you will never find a room like this one and that the sun and the stars, the bed and the floor, the cobwebs and the dust, the grey paint and the windows will be waiting for you to come again.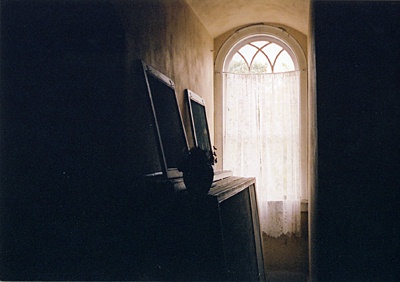 © Kandi B., Vacherie, LA