Again (Chapter 1)
November 20, 2010
My alarm clock rang after five minutes. I took a glance at it and groaned; it was only 7:00 a.m. The crimson sky glowed, welcoming the sunset. Birds flew across the sky, chattering excitedly. It seemed so peaceful that I wished I could stay this way forever.

"Leah dear?" I turned around just to figure out that my mom was standing by the door way, watching me the whole time, "It's Monday dear, get ready for school." I groaned, now I knew why I felt so sad; it was my least favorite day of the week, Monday.

"Okay mom, I'm coming." I said, grabbing the white t-shirt and a pair of jeans, "I'll be down in a minute." I waited until mom went downstairs and was out of earshot. When she was, I changed into my clothes and turned on my laptop. There was a short message from Ivy Miller, my best friend.

Hey Leah! How ya doing in.... Florida?
Miss you a lot, girl. Remember how we used to go shopping
and run into hot guys on purpose? I miss those days. Oh and
remember Zach? He's talking about you all the time, girl.
You shoulda asked him out girl! I soo envy you!!!
Visit Lincoln High soon! Write back ASAP!!!

Ivy

I stared at the monitor with a blank expression on my face. Ivy was always talking about hot guys and how they all talked about me and let me tell you... she's lying. But I guess that's what Ivy's like for most of the time. She was outgoing, musician, and popular. I always wondered how she could be friend with me in the first place.
Hey Ivy I started to type back to her, but stopped as I glanced at the clock; 7:20 a.m. I saved my message then headed downstairs to the kitchen. Mike, my twin brother, was already scooping up his spoon and munching on his cereal. With his chocolate brown hair, icy blue eyes, and designer clothes, he looked like a perfect model. I envied his looks as I sat down and munched on my cereal like I do every morning. How could we be twins when we are not even a bit similar? I wondered aloud.

When we were done with our cereals, Michael and I walked upstairs, brushed our teeth and came back with back packs hanging on our backs. Then we headed to school.

"Yo Mike,"

"Yeah? You wanna copy my math homework again, Leah?" he asked me, guessing what I'd say like always. But this time, he was wrong.

"Um... no. But thanks for reminding me," he smirked as he handed me his math notebook from his backpack.

"Five dollars." he said. Of course, everything was not free if it was from Michael Zachary Peterson, "what else do you need?" he asked me as I handed him my five dollar bill from my wallet.

"I was wondering why we're twins even though we're not really similar." I smiled at him innocently, "you know, like... for example, our grades, our personality,., all those stuff."

"Ah Leah," he sighed, "twins don't really need to be exact identical copy and pasted clones. Get it?" I scowled a bit, he was mocking my intelligence.

"Yeah yeah, I know Mr. Smarty Pants. I'm just saying that I think we need to be at least teeny little bit similar? I mean, seriously. Last year, no one realized that we were twins until at the end of the school year where they gathered brothers and sisters together and made us sing that dumb old school song." Mike mirrored my scowl. For me and him, it was the worst graduation ceremony ever.

"Well, I don't know." he said, "didn't anyone tell her that we're not twins or that we're not even from the same family?" he muttered under his breath. Or I thought he did....

"What?" my eyes widened, "did you say that-"

"Huh? What do you mean, Leah? What did I say?" he interrupted me, "I think you were daydreaming. C'mon, we're gonna be late for school!" he grabbed my hand and ran, earning few jealous glares from girls.

"Stop staring! We're just twins!" I yelled at them and their flirty smile appeared almost automatically. I didn't understand why they were so jealous. He's a seriously annoying person.

"Hey Mike where's our classroom?" I asked him, since we were twins they put us in the same class oh what a joy. Mike gave me his I-can't-believe-you-actually-asked-me-that-twin glance so I added, "well, no one's actually as perfect as you."

"Room 123. You should be able to remember it if you graduated from kindergarten." I just rolled my eyes at him, "well, I guess I need to drag you with me everywhere I go except bathrooms or girl's lockers.. you know, exceptions." I kept rolling my eyes, "okay here we are, room 123. Do you want me to sit beside you, twin?" Mike asked me and I rolled my eyes, "come on." he led me into the group of boys.

"Hey Mike is that your twin sister you talked about?" the brunette green eyed boy asked Mike as he came up to us. Mike nodded and I gave him a questioning look.

"Met them on the soccer field last time." he explained, "And yeah Evan, she is my sister."

"Welcome to Klinkton High!" Evan grinned at me.

"Thanks. I'm Leah Peterson," I told him, "Leah Claire Peterson."

"Well, my name's just Evan Renell with no extra middle names."

"Okay... nice to meet you Evan." I smiled at him politely because if I didn't, Mike would kill me.

"Nice to meet you too, Leah. If you need help with anything, just call us." Evan held out his hand and I shook it. He smiled a cocky smile, the kind that most girls like. I smiled back awkwardly without actually meaning to smile. Evan looked into my eyes as if he saw something in my eyes that caught his interest. Mike cleared his throat.

"Evan? Did you do your math homework?" he asked Evan who took his eyes off mine instantly.

"Nope, 'course not. How much is it this time?"

"Five dollars." Evan cursed under his breath. He took out his wallet and handed Mike a five dollar bill, "thank you come again." Mike smirked.

"Whatever dude. So where's the math homework notebook?" Mike pointed at me while pulling out another five dollar bill from his pants pocket.

"Leah's using it for now. She'll hand it to you when she's done with it." he glanced at me, making me promise to do what he said.

"Whoa, you didn't do it too? Cool! I thought girls were natural homework nerdies!" Evan held out a fist and I bumped it, murmuring,

"Well, I'm not. Why should I waste my time on algebra?" Evan guffawed.

"True that." he commented, "why waste your time on algebra when you can play Star Wars II on your laptop while enjoying a cool coke?" I shrugged. I wasn't sure about playing computer games. I didn't have enough knowledge when it came to computer. All I was thinking of was chilling out in my room with lemonade and potato chips. But I nodded to agree anyways.

"So yeah... I'll be seeing you guys later?" I sent the question directly to Mike who acted as if he wasn't paying attention.

"Yeah sure. Have fun!" Evan chirped as I turned around and bumped into a group of girly looking girls. There was a brunette, red head, and (of course, like in any other schools) a blondie.

"Ouch! You just ruined my perfect nail! It was sooo cute when Kelisha did it but now you ruined it!!!" the brunette girl shrieked. I fought an urge to stuff my ears with Mike's math notebook. I took a glanced at her glittery golden nails and they seemed perfectly fine to me. In fact, it seemed like a fairy godmother came and painted the brunette girl's nails with her magic wand.

"I'm sorry." I muttered since it seemed like it was a thing to do. The blond girl in the middle glared at me.

"Oh whatever." the brunette girl bumped my shoulder purposely and walked away with her friends. I just stared at them silently. 'What a bunch of fools,' I thought to myself, 'if they are going to act like they bumped into my on purpose, they should be more persuasive.' I headed for the bathroom before the boring bell held me back toward the classroom.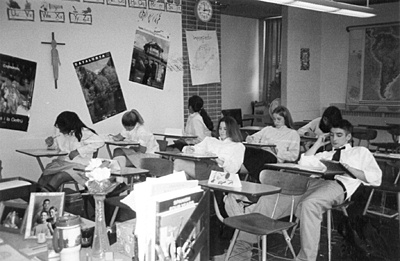 © Fox V., Whitesboro, NY