The Ceiling is Gray and Our Minds Are Tangled
April 12, 2011
The ceiling is gray. It always has been, I think. You see, I haven't been here more than a year; I'm a freshman. So how would I know whether the ceiling used to be white or tan or pink or—but I digress. I am a freshman, so I have no clue what this ceiling used to look like. That is my point. However, it looks like a will have a long time to enjoy this terribly fascinating ceiling and to contemplate it's past, because Ms. Gardans, my teacher, is so utterly engrossed in her math lecture that I don't see any signs of it ceasing for at least another three hours. My, what a beautiful ceiling! I sigh leaning back in the battered high-school desk to stare at it in mock wonder.
That's when I hear the laughter. Not through my ears, but in my head. Across the room, TJ is staring at me with a smirk on his impish features. Apparently, I forgot to seal my thoughts again and he heard my sarcasm. Nice, Dare. By the way…it was white, I think, at some point. I hear his reply over the droning of Ms. Gardans and roll my eyes. Mind links are such a pain.

He didn't read my mind intentionally—I know that. It was my own stupidity. I unconsciously released the thought out of my head for anyone to hear. Just so happens, that "anyone" was TJ.

Oh, go away. I glare at him from my desk, and tug on a strand of my gold-brown hair in irritation.

TJ shrugs and thinks, Hey, I didn't do that on purpose. You released the thought, and I happened to have my mind open! So whose fault is that?

Mine, I agree grudgingly, But you know we're supposed to close our minds during lessons. Was someone supposed to be thinking to you?

Yeah, Sarah Firsnap. He winces, and I smile. It had slipped out of his mind before he could stop it.

Oops, he makes a face, that wasn't supposed to happen.

Nope, I grin.

Hey, he sounds worried, don't tell Ben, okay?! He's been teasing me day in and day out for the past month about her.

Tell me what? Ben's voice rings out inside our heads. Ben is sitting at the front of the classroom, pretending to listen intently as the teacher explains about several-variable fractions and their relations to repeating decimals. He is a good actor. If I hadn't known better, I would have believed his act, thinking that he found math the most interesting subject in the world!

TJ slaps his forehead and gets a strange look from Ms. Gardans. Come on, man! You know you're supposed to keep your mind closed too!

Why are you thinking, then? Who are you talking to? Ben accuses him, Wait, it's not…Sarah, is it?! He started to laugh.

No way! TJ protests, Honestly, it's just Dare!

Oh… thinks Ben, sounding slightly disappointed, Hey Dare!

Hey Ben, I greet him, Oh, I was meaning to ask you…me, Adam and Ansley are going to hang out downtown on Saturday, do you wanna come?

He is silent for a moment, then, Yeah…I guess. I had a science project to work on though....

Dude! TJ is shaking his head as, across the room, he bends over his notebook to write something down. That project is due next month! I haven't even started mine…you got nothin' but time!

At the front of the class, Ben's scratching his head nervously. Well…it's a really complicated formula…

I interrupt him, Hey, if you fall behind (which you won't), I'll come over and help you make it up, okay? We never get to see you! You're always doing science.

I like science.

You're messed up, TJ laughed, still bent over his paper. Geez, my best friend's a complete nerd!

Whatever.

I let out a sigh. Ms. Gardans doesn't look like she'll ever stop talking. I swear, she hasn't taken a breath in five minutes!

TJ's chuckle bounces through my head. A minute later, I receive a mental picture of his paper. Apparently, he hasn't been enjoying the lecture either. He has been drawing an amusing cartoon of Ms. Gardans. I will not describe it here. Ben starts to laugh uncontrollably at the front of the room.

That's not very nice, A high pitched voice pierces our brains. Besides, that doesn't even look like her.

Where did you come from!? TJ asks, bewildered.

I've been here the whole time, Sidney (aka Teacher's Pet of the Year) whines, And I don't think you should be thinking during class.

Duh.

I'll tell Ms. Gardans! she threatens.

She won't believe you, anyway, Ben points out.

She always believes me! Sidney squeals. Even if she can't talk like this too.

Ben sighed, Not about this, she won't. She'll think you're crazy.

I dare you to tell her. There's a reason my friends call me Dare.

Sidney is stuck. I feel bad, but don't take back my dare.

Uh…. She is thinking of ways to get out of it.

TJ looks at her across the room expectantly. Well?

I hear a small clicking noise, confirming she has sealed her mind.

Fail. Ben laughs, I knew she wouldn't tell anyways.

She never does.

Hey, Ben thinks, What did you guys think of the show last night?

TJ shakes his head, I never guessed it was them.

Me either, I grin. Detective shows are my favorite. But I did notice the tracks on the ground when they walked into the dorm.

Eh, TJ shrugs; I never notice that kind of stuff. That's their job.

We discuss the episode for a few more minutes before Ben moves on to politics, which causes a synchronized groan from both me and TJ's brains. No way, man, TJ cuts in, I couldn't care less what Obama's doing or the Representative of New Jersey thinks about it.

Sorry, Ben.

He heaves a sigh. It's better than math, though.

Only barely.

What about that hockey game on Thursday? I change the subject. Did you see that save?

Oh, yeah, that was wicked!

Sickly. Ben agrees.

Ha! I bet Jonathan was sad to miss that one! His favorite team too!

We are so engrossed in our conversation, it takes a long time before we notice we are the last ones in the classroom. Me, TJ, and Ben sit in the empty room surrounded by abandoned desks. Did I say empty? Oops, I meant almost empty. Ms. Gardans is standing at the front of the room watching us with raised eyebrows. Dare? TJ? Ben? Class is over.

I almost fall out of my seat. Am I dreaming? But no, I turn my head and see TJ staring open mouthed at our teacher. I can only see his back, but can tell Ben has gone rigid in his seat. Our teacher can do it too. She can speak with her mind.

Yes ma'am? TJ thinks in a squeak.

Ben speaks aloud, "You…you…can…???"

Yes, I can. She thought back at him. And I would prefer it if you wouldn't think to each other during class.

Yes ma'am. TJ repeats quietly. I think he is too shocked to say anything else.

TJ, she continues, that was quite the cartoon you drew! You really should sign up for some art classes. You have potential!

TJ turns such a bright shade of red I think he might burst. Sinking down into his seat, he mutters, Yes ma'am.

Class is dismissed, she replies briskly, You may leave.

As the three of us rise shakily to our feet and stumble out the door, Ms. Gardans calls my name.


Dare!

I gulp. Yes?

Just thought I'd let you know. The ceiling has always been gray.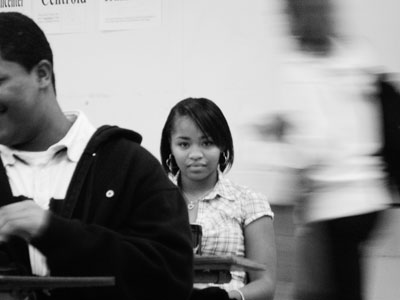 © Demetrius A., Ft. Meade, MD