Jenny and Angel
July 24, 2011
I know someone who has a hollow heart. It wasn't always hollow, but even the most sweet kind person can be corrupted. It wasn't meant to happen to her it was meant for me. But, they messed up and now my sister has a hollow heart.




I rule the Light, my sister would've done that but she fell in love with a demon known as Larketh. The Dark thought she would be better at ruling the Dark than me since she had chosen to join them, while I had always been kind and cheery like one of the Light.

Now the conflict between me and my sister was pulling our family apart even though they had known it would occur. My parents had hoped that naming my sister Angel would prevent the conflict from happening they thought I would be so proud of my big sister because of her "good deeds" that I wouldn't turn sour. The prophet that had warned them of our future had seen only one of the possible futures we would have to endure so far her word had been false.

"Luckily for me" today was one of those days when Angel visited and my parents made me come home and dress in all black just to please the girl. I hate black. Yellow and white please me but black makes me feel sick. Today I stuck a flower in my hair in the hopes that I wouldn't barf again like I did last month, its mere presence warmed me and reduced the overall nausea effect.

I walked into the kitchen and downed a glass of orange juice and eyed mom who was roasting eel, "do we have to eat that stuff?"

"Jenny," said Mom obviously annoyed, "It's Angel's favorite you know that."

"Can I have my favorite food today then?"

"Angel hates mushrooms."

"Well I hate roasted eel. You never consider how I feel do you? Its all Angel, Angel, Angel our sweet little evil doer."

"Jen..."

"You know what mom? I don't want to hear it Mom. Angel is evil she's more like a demon than an angel. She rules all those Gargoyles that you say to stay away from."

"Jen I think maybe if we support her and Larketh she might be our sweet little baby again," said mom in a small voice.

"Your sweet little baby. And I'll be the evil one like I should've been? No thanks."

Mom's mouth quivered she looked near tears.

" I'm going home. I know you don't believe me but I know I don't belong here. Demons aren't my friends."

Mom's eyes filled up with tears, " Larketh isn't that bad. What does he have to do with this anyway? This is your home Jen. Your dad and I are the ones that love you."

"No, Mom the Castle is my home," I couldn't look at her, "If I don't go back Angel's forces could kill off all of the Light."

"No Jen I love you!"

"I love you Mom and I'll come back," I said, someday.

"Good come home soon."

"I'll go pack my bags then."

"Leaving so soon little sis?" I whirled Angel was leaning against the door looking amused, Larketh black lipstick and all stuck like glue to her side.

"Yes, yes I am."

"Now why might that be?" She batted her eyelashes innocently.

"I um, uh..."

"Are you afraid of me Jen?"

"No."

"Good I'm absolutely harmless. Don't you forget it," said Angel hands on hips blonde pigtails swinging apparently this was extremely funny, Larketh went into hysterics.

"Yes," I said, "very funny. Ha ha ha ha."

Everyone stared at me, "I guess I'll go pack then," I said.

"Good idea," said Angel, "Be sure to take some tasteful clothes."

"Sure. Whatever," my face burned.

I looked at my old room. All I really wanted to take was a picture of my parents holding a mini me in the air laughing. But, even so it was hard to leave. The place felt good to inhabit dirty socks and underwear were scattered across the floor and Weasel lay sleeping on my bed. The most annoying, sweet cat I ever knew.

I couldn't leave the poor kitty behind. I loved his hairless body and intelligent yellow eyes. I scooped him up into my arms and put my photo in one of my pockets. Taking one last look around my room, I lifted off the ground Weasel squeezed against my chest.

I barely fit through my open window because Weasel was squirming trying to jump. The cool air grazed my skin and I took off toward my mountainous home.

The sensation of freedom didn't last long. Flying is harder when you have a cat digging his claws into your arm which Weasel was doing that very moment. I probably should've taken him flying before just to get him used to it. That would've spared me pain and I wouldn't of been splattering blood on random people's rooftops either.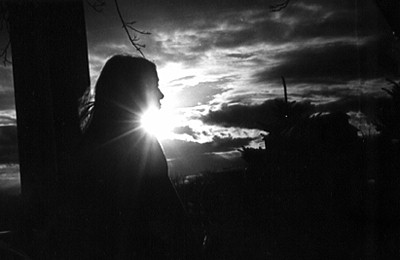 © Elizabeth G., Marblehead, MA