The Rose
January 29, 2012
One bright morning in the middle of May I was strolling along the cold stone path leading me to my small garden. It was a nice little place that my parents had helped me build a few years ago. I had always wanted a garden, because I love the idea of growing my own food. I didn't quite want to be a farmer, but for some reason I have always felt good if somehow I have done something to get it, other than going to the store of course. Now I am thirteen and like to go here every morning right before breakfast. Sometimes I pick a few strawberries to go along with my meal. I love the fresh taste of the bright red berries as the sweet juice bursts in my mouth. I also like to water my plants at this time. Sometimes if I'm not careful the spray gets all over me! It smells wonderful out here for not only do I have strawberries, but I also have roses! Their delicate petals have always fascinated me, but what I like most about them is their smell. They are probably my favorite scented flower. Each rose is different yet they all smell and look perfect. They especially look beautiful after a light shower when tiny raindrops sit on their petals. Sometimes if it rains to hard though their color runs and they turn white! It's almost as if I had painted them red and the water came and washed them off! While thinking about this a little I moved on and set my gaze on a truly extraordinary rose. It had a tall green stem that stretched above all the others reaching out to touch the sky with its leaves, and a bud the size and shape of a basketball! It was amazing because usually the biggest the buds ever get is half the size of my fist! I stood there a second gazing at its wonder as it slowly began to drop its huge delicate petals. They slowly began to flatten out and form a little platform. Then the rest of the petals that were still in the shape of a bud began to fall, but this time they fell to the ground. Their delicate petals rippled as they fell dancing in the breeze until they reached the soil. It was amazing because they made a perfect heart at the base of the magnificent flower. The rose's petals were the prettiest shade of pink that I had ever seen! They were reddish-pink with hints of gold on the edges. Then I looked back at the blooming rose and noticed that it was down to its last few petals. What a strange site! I thought to myself as I gazed on. Finally the rose was on its last two petals. One flew open and a tiny little being stepped out of the center!
"How do you do?" she asked me with its little voice. It sounded like a tiny whistle blowing in the wind. Then she made a small curtsy and smiled. The little fairy was about as small and as tall as a dollar bill. She had on a tiny petal dress two little leaf shoes that curled at the ends. The shoes were very pretty with light green and dark green swirls.
"Are you a fairy?" I asked still amazed for I had only heard of this in stories before! Like the name Fairy Tales. The only thing about this was that she didn't have any wings. This puzzled me because in every story I've heard they have always had them. Then I made a major mistake and picked up one of the petals to see what it smelled like, but to my surprise when I stood up she had vanished! All that was left of the wonderful seen was an empty stem and yellowing petals on the ground. I sniffed the petal, but it didn't smell much for now it was in my hand crushed. I just stood there stunned. Then something occurred to me; a saying that I've heard many times before, "You must never take your eyes off a fairy." That is the number one rule in all the stories! I guess in this one too.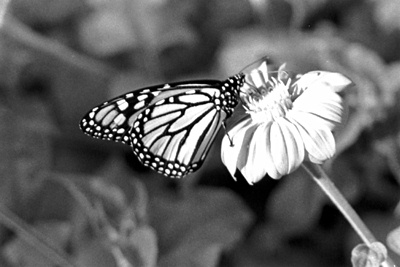 © Lindsey Dennis, Marblehead, MA