Invisible- Prologue
April 17, 2012
          All I saw was the orange and yellow flames engulfing my home. All I saw was the red liquid staining my hands. Blood. It was blood. It wasn't mine. I was alright. 
     I looked up abruptly when I heard a piercing scream echo through the night from my burning house. Panic gripped me tight in my gut and adrenaline pushed me forward. I ran on shaky legs to the edge of the flames and screamed at the top of my lungs.
" MAAAAAAMAAAA!!!" I screamed over and over again for my mother, but she was long gone now. Her last breaths had been to scream out in pain from the heat of the fire.
    I collapsed in front of the flames in sorrow. I wanted to cry but the heat evaporated even the slightest tear that welled to my eye. I watched the flames as they consumed all I had known. This was the punishment for breaking the law. You were disposed of. 
     No one ver really talked about it but sometimes child survivors would show up at orphanages. You could tell they were orphans when you were at school. They all had the same haircuts and wore different uniforms. Even without that you could tell they were orphans. Just the looks in their eyes was enough. I was determined to never have that look in my eyes. There was only one way to escape my fate. I had to "die".
    I looked around and found a piece of scrap metal at the edge of the slowly dwindling flames. I heated the sharper edge just slightly in the flames and rolled my left shirtsleeve up. I dug into the flesh about an inch. The pain was only bearable because I knew it was the only way. 
     I was relieved when I saw the red flashing light through all my blood. I picked it out of the tangle of muscle and winced in pain. The second the crystal separated from my body the light went out, signaling the empire that I was to be officially pronounced dead. Kanade Mishima was dead.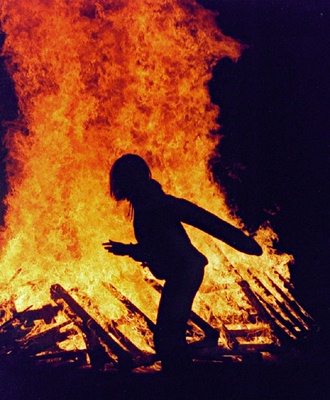 © Hali S., Robinson, IL