The Goddess of Storms
August 31, 2012
A lone figure wanders through the field.

Her skin is as white as freshly fallen snow, and her cold-blue hair flows out behind her like an icy river, despite the windless night. The woman wears a dress not of fabric, but of the northern winds trapped.

She is the Goddess of Storms.

It's Winter's eve, and the Goddess of Storms has to change the seasons; has to envelop the world in a blanket of snow. Soon, though, the chilly blanket will melt away with the water of her volatile storms.

The Goddess lowers herself onto the ground. The moment her pale hands touch the barely-there grass, a layer of frost flowers out from beneath her fingers. The Goddess of Storms traces a pattern on the dying grass; a pattern of swirls, circles and stars that is hypnotic in its beauty.

Once she has cooled the Earth, the Goddess slowly walks into the sunrise, caring not for how long she takes. The world waits for the Goddess, as it has always done.

The cool sunlight causes the beautiful woman to shimmer, as if she wears a coat of ice. Just before she disappears out of sight, the Goddess of Storms turns to me.

Her aquamarine eyes are filled with the sadness of whitening the world year upon year, of killing the flowers and disrobing the trees. "How long have you been watching me?" the Goddess asks in a voice that sounds like the tinkling of icicles as they fall to the ground.

"All night." For some reason, I don't feel any fear. My chest is filled with the comforting warmth of a crackling wood fire.

A smile curves her iridescent-silver lips and she tilts her head. "You must be very cold. I think it would be best if you go home to a warm bed."

"Do you have a warm bed?" I enquire.

"Of a sort," she says softly. "My bed is the skies, and the seas, the stars and the earth."

I frown slightly. I open my mouth to ask what she means, but she speaks before I do.

"I must go now." She smiles again, and a gust of wind picks up. The Goddess of Storms disintegrates like an old cobweb, carried off on the breeze.

A light flurry of snow dances around me. A goodbye from the Goddess of Storms, for her job is done.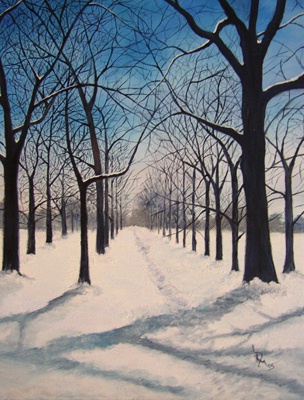 © Lauren M., Scotch Plains, NJ