The Longest Goodbye
September 26, 2012
"You know I have to go."

Noah's eyes burned with a tempestuous blend of emotions as he looked at me. I saw grief, fury and a helpless despair. This was hurting him so much.

"What about our daughters? You'll leave them?"

I caressed his cheek with fingers that were nearly translucent, tracing the faint dimple at the corner of his mouth.

"I have no choice." I swear I could hear the crack as my heart broke. "They will have a wonderful father to protect them. You'll make sure they remember me?" My voice cracked on the last word.

He buried his face against my side with a sob. All I could do to comfort him was weakly stroke his curly, beloved head, murmuring my love for him over and over again.

When Noah could finally speak again, his voice was husky. "They will never forget you. Merial...I can't..."

"Hush," I whispered, "We had ten years, ten beautiful years. We found more happiness than most do in a lifetime." I kissed his fingers one by one. "It's time for me to go."


Noah had to carry me; I had not possessed the strength to walk for many days. Our daughters, sweet Echo and sturdy Pearl, followed, their faces grave. They were too young to truly understand, but they knew that this was goodbye.

The scent of the sea greeted me like an old friend, sending whispers of welcome through my hair. The waves laughed at me, asking where have you been all this time?

Noah lowered me to the girls' eye level, "You take care of each other, okay? And take care of your daddy for me; he's going to need it. I love you both so much." Tears clogged my throat as I embraced my babies one last time. "Even though you can't see me, I'll be here for you. Remember that."

I was out of tears when Noah raised me up and stepped into the surf. I clung to his neck in silence; there were no more words to be said. His eyes locked with mine as the ocean washed over us.

I screamed as the sea invaded me. A million knives pierced my skin, flooding me with sensation. I was dimly aware of Noah's voice as I writhed in his grip. His loving arms had become chains. Newfound strength swelled within me, and with one final twist I was free.
Diving deep, I reveled in my transformation. My pale human legs had fused and my skin shimmered with opaline scales of blue and green. For a moment, all I felt was pure, incandescent joy. Then I remembered, and I went still for an instant before rocketing to the surface.

I found Noah kneeling in the sand with our daughters held close. Our eyes met for a second that lasted an eternity.

"Goodbye," I whispered, knowing he couldn't hear me. Then I vanished forever beneath the waves.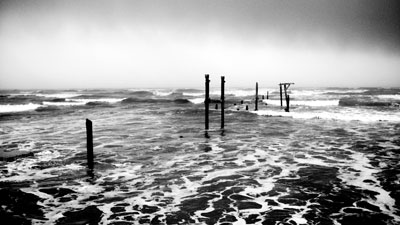 © Harrison L., Ruston, LA