The White Rose
February 2, 2013
She's standing before me, her black dress cascading down her bare, pale legs in the darkness of the starry night. The blood stains are hardly visible, but obviously existent when my eyes move up to her lips which are deep red and upturned into an inkling of a smile. Her eyes are the exact shade of her dress; lifeless but full of fury and fear. A lonely white rose is held gently between her smooth fingertips, mesmerising my gaze for a second. Ebony hair tumbles past her shoulders and rests lightly on her dress, appearing angelic.

Yes, I think bitterly. She's an angel with a devil's soul.

As soon as this thought crosses my mind, a laugh spills from her lips, followed by a gasp as her face contorts in pain. She squeezes the stem of the rose, attempting to mask her agony, only allowing a single drop of blood fall from her hand, which collects on her dress, merging with the deathly black. She lowers her head, her body rigid from concentration of healing and capturing me.

Although I'm already captured.

Locked in her gaze, prisoner to her pure appearance. How could I move? My legs have turned to stone in the chill of the night; it's just her in my vision. The graveyard around me has melted away; my mind memorising every detail, every move, everything. Despite the fire that burns in the soul of her heart, destroying her, I cannot be anything but captivated.

Fear lurks in the pits of my stomach as she raises her head again, a grin emerging from the pain. I have lost all speech, all movement, all thought as she comes closer, her dress floating in the wind. The rose is still tightly in her grasp, the poor, lonely rose.

She's a hair width away now, her eyes searching mine, the rage masking the dull energy within her. Hope seeps from me as she backs away slightly and drops one hand to her side, the other still clutching the only pure object in sight. She closes her eyes slowly, the smile fading in sorrow, and reopens them. To my horror, a tear of blood streams down from her motionless eyes, landing directly on a white petal.

I try to struggle, but realise it is futile; my muscles aren't responding and they never will.

She clasps my wrist and looks up to the night sky, muttering meaningless words beneath her breath until rain begins to fall. I shake uncontrollably as her grip tightens. Life is draining away. My life. Me. Am I me anymore? I collapse to the floor, knees buckling at first, and then my torso. My eyes are still wide open in shock and dread. I am gone now, but still alive.

I feel the swish of her dress above me and footsteps echo through the graveyard, which has now turned into darkness. She's absorbed me. Killed me. Left me. Left me in the deathly night.

My eyesight diminishes, but the last thing I see is the white rose she dropped. Pure and innocent, with a single drop of the devil's blood encased in the centre.

White, a lonely white, abandoned in the darkness of the world.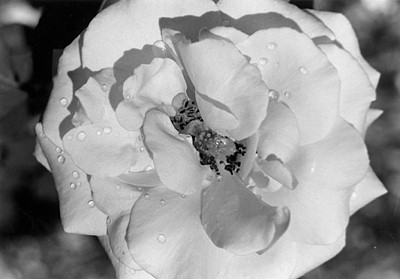 © Kristin O., Quincy, MA