The Last Conversation On Earth
May 30, 2013
Two aliens are sitting beside each other, holding hands and watching the sky.

"I think the end of the world is near…" gasped Sara.

Daniel sighed sadly and replied, "It is, the Sun is dying and we are but hours away from destruction."

"Will you stay with me?"

"Yes."

"What about when it becomes colder, so cold that even the rocks freeze?" Sara asked, glancing around her at the huge boulders on the outskirts of the town.

"Then I will make us a fire and keep you close and warm," Daniel said, smiling softly despite the situation.

"What about when all around us we hear the screaming of humanity dying in its millions?" Sara knew that they would outlast the humans because of their specially designed space equipment, but not for long.

"Then I will put my hands over your ears and keep them there until there is only silence."

"What about when the darkness descends and we are each left alone, totally isolated in a cold, black, empty world?" she whispered, looking up at her true love with tears glittering in her eyes.

Daniel grasped her face with his hands and said firmly, "You will never be alone. For as long as I have breath in my lungs I will be by your side, my love."

They watched as the Sun slowly faded and the shadows grew around them.

"Will they remember us?" she said in a tiny voice.

"I promised a long time ago to only tell you the truth. No, they won't. Like this planet, our race considers us unimportant and worthless. They don't understand the value of what the humans call love, or loyalty…I am sorry for everything, my dear." Daniel looks away, and then begins to build a fire.

"Why are you sorry? You have nothing to be sorry for, I promise you," she said, confused.

He lights the fire and pulls her closer to it. "If I hadn't tried to save this beautiful little planet then they wouldn't have left us here to die. They wouldn't have left you… to…die," he said bitterly, his voice choked up with emotion.

"It was worth it!" Sara exclaimed. "Someone had to fight for this, and I am proud that it was us. I wouldn't change anything. After all, protesting Earth's destruction was how I met you." She smiled at him then winced as the screams began, loud at first but getting quieter. Daniel placed his hands carefully over her ears and bent towards them until she could hear what he was saying.

"That is true. I would die one hundred deaths just to spend a moment with you."

"And I the same, to be with you."

The Sun dies and the Earth is cloaked in darkness, nothing is visible.

"Sara?"

"Yes, my prince?"

"I love you."

The coldness overwhelms both aliens and they die, their hands eternally frozen together, their eyes locked upon the other's face as their hearts simultaneously stop beating.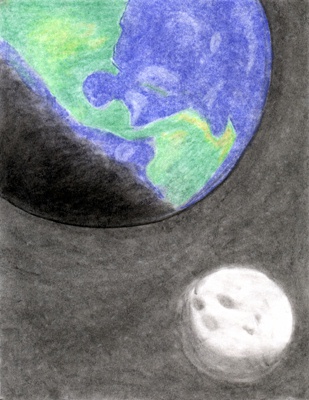 © Bianca C., Phoenix, AZ