Mutation
May 31, 2013
The city has turned into a mad house. That's why people were shot everyday at noon. Elimination of the undesirables would lead the city into a new age. Or so they say. They, meaning the heads of our secluded district. The 'heads' were ruthless, cutting down people left and right. Any street you turned down, a dead body waited to be discovered.

My hood covers my head, blurring my appearance. As I make my way 23rd and 5th avenue, the noise gets louder. Screams pierce my eardrums, even through the elevated sound of my music player. My eyes slid to the left, catching sight of a green hand. I smile to myself, knowing soon something dangerous will be cradled in that very hand. The clock in time square goes off, 11:55; the countdown begins. Stunned, I stop. Around me, 3 other people stop. My wide eyes, slid over their hooded faces. A hood, with an orange tail wrapped around its leg, nods at me, then nods at the rest of us.

Sliding even more into my hood, I quicken my pace. Up ahead a brick building with a fire escape comes into view. The same fire escape marked on the map. With one last glance at the clock, I slid into the alleyway. The steps sway beneath me, making my stomach churn. A door, with a red pentagon, stands slightly open. I slid into the doorway, being cautious not to draw attention.

The second story of the building is inhabited by a small bakery. Drone, the burly bakery, nods his scaled head at me and subtly jerks his head towards another seat of stairs. I head towards them, grabbing a black case on the way there.

The stairs creak slightly as I walk up them. After 5 flights of stairs, I reach the 6th floor. Dust clogs my nose, making me want the sneeze. A breeze, from the newly opened windows, whisk the dust around, stacking it in a corner on the far side of the room. I slowly walk over to a brick seat and place the case beside it. The back of my neck is slick with sweat as I pull my hood down. Violet tendrils cascade down my back, vibrant against my pale creamy skin. Setting down, I assemble the gun that lays nestled in to black case. A reflective plate catches my eye. I stare into it, my tiger shaped eyes widening. The grey coloring of the iris turns liquid silver, illuminating my face.

The clock rings, signaling 11:59.

Quickly, I place a bullet into the chamber.

The 4 heads stand up, axes of varying sizes in their hands.

4 bodies, all with mutations, lay on the ground in handcuffs, withering with fear.

I raise my gun.

5 seconds till 12.

I sight in on the tallest head.

Dong! Dong! Dong! Dong! Dong! Dong! Dong! Dong! Dong! Dong! Dong! Dong!

The clock strikes 12.

Bullets ring out.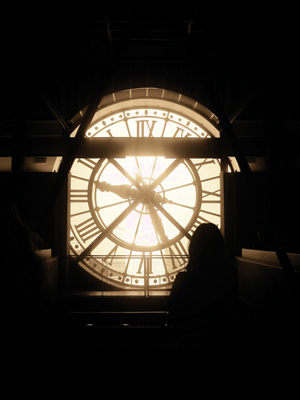 © Treza R., Kalispell, MT