The Awakening (Part Three)
February 6, 2014
The first place Taylor went was oddly enough, a place to think about what she would do next. After all, this would be a new life. A new life that had waited years for the perfect to show itself. This new life had hoped that Taylor would notice it in its subtle presentations. That worked about as well as a sleeping student. It was always there in her aspirations, just hard to recognize until now.

In the dark, damp night a simple doe found Taylor in the forest. Then more, and they too began to almost congregate around her. They were waiting for her to react, and she was too. She had hours to learn what years had tried to teach her. That fact alone would prove to be more beneficial to her than anyone, or anything, expected.

The change was so quick. Taylor was a girl, wondering what to do. In seconds, she became a formidable being that fought to survive. If only she knew the talent within her, she wouldn't be fighting. The original doe, the first one to approach Taylor, was dead in her hands. Wood was abundant, so she would have enough to eat for long enough to figure out what was going on.

This was not a dream. This was not a nightmare. This was not reality, at least not as Taylor knew it. But what did this ignorant girl know?

She wished to be back near home, with the crows. At least they gave her only happiness. Now there were too many emotions.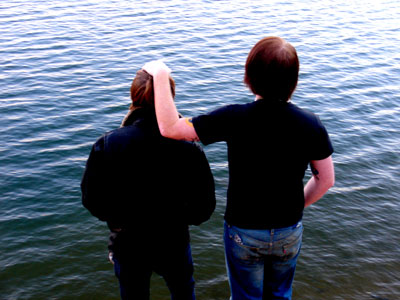 © Michelle B., Blairsville, GA