Always friends
November 15, 2008
"Melina, where are you moving to?" Jacob asked. "To St.Louis, Missouri. Why do you ask?" Melina asked. "Well, since I live here in Osaka, Japan, I just want to know so maybe when I grow up I can come visit you and I could send you letters!" Jacob said.
"Well, I'll email you as soon as I get my computer up and running I promise!" Melina said. She took Jacob's hand and held it tightly. He squeezed her hand and asked "What day are you moving?" "Tomorrow at 8:30 in the morning. Please make sure to come see me!" Melina begged. "I will!" Jacob promised. "Well, come on my parent's are letting all of my friends come to our going away party and we're having you're favorite Onigiri!" Melina laughed. "Ok, let's go!" Jacob laughed.

"Mom, we're here!" Melina said as she opened the door. All of Melina's friend's were there to see her.

The Next Day.

"Mom please wait for another 5 minutes!" Melina pleaded. "Sweetheart we need to get on the road." Mrs. Saruwatari said.

"Wait! Melina!" Jacob yelled. "Jacob, you're late!" Melina said. "Sorry!" Jacob said. "That's allright!" Melina said. "Well, I guess I'll- email you later!" Jacob said. Jacob's heart started racing. "Well, I need to get going it's going to take two days to get to Missouri." Melina said. "Allright!Bye Melina." Jacob said. Jacob gave Melina a hug. Tears were streaming down Melina's face and Jacob's face. "B-Bye Jakey!" Melina choked out Jacob's nickname that she gave him.

Melina got in the moving van and waved goodbye to Jacob. She started crying even more. 'I will always remember you Jacob Fujiwara' Melina promised herself. Melina and Jacob have been friends since pre-K. And she was moving when she was in 11th grade.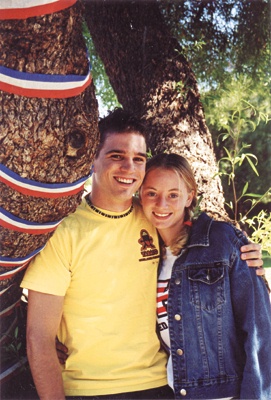 © Anonymous