The Paradise of the Moon and Stars
December 15, 2008
When under a moon, theres a spot light, for everyone especially you. When under the stars, there will be a star waiting for you. That star, is a talent of yours.
There is a surene stream: it is nearby with swans in it. Suddenly the moon arises and stars materialize gradually after the moon. Above you an exquisite scenery lies within.
Suddenly, unexpectedly you notice the stars. You laugh in amazement;the stars are dancing for you! Apparently, it is only a part of the sky the stars are in. But if you look closely, every single star is lit and dancing at their rate. Now all the stars are bright and dancing for everyone, everyone in the whole world.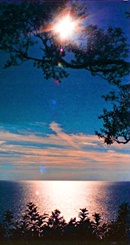 © Anonymous