light sphere Prologue
September 25, 2014
Prologue
"Push! Push!" The Doctor shouted at her. His encouragement was of no help. She honestly was to scared to push; she had a bad feeling about this place. The cold white tiles and white brick that echoed her screams off the walls.
She was a lab rat here. She was considered one of the 'Crazys'. Forced into this old asylum. To the outside world it seemed innocent as a old folks home, but truth be told they were cruel here; treating the patients like they were nothing, using them for their science experiments.
She wondered what she had done to deserve this; just for the night terrors that kept her awake all night long. But this she wouldn't have wished upon her own worst enemy. She wouldn't even had been giving birth right now if it wasn't for these people. Artificial Insemination was what it took to put their scientific creation into her.
Nine long months she had endured this strange pregnancy unlike a normal one. Her symptoms were so much different than expected. The bright colored bile she expelled from her body, The aches in her stomach,  the Hallucinations of these bright colors would flash in front of her eyes and wouldn't go away,. They were always accompanied by a high pitched note and a wisking of air by her ears.
But the one thing she didn't mind and she never told any of the staff about. It was amazing to her, and in her mind it was the baby's way of telling her everything was going to be okay.
She woke one night in the darkness. Her baby kicked and squirmed about and performed it almost nightly ritual of amazement. she lifted the covers off of her body and pushed her shirt up to her chest exposing her rounded belly and waited as the baby kicked more and more. She felt the warmth bubble inside of her as a soft glow appeared through her skin, casting a shadow of the phetes inside of her.
In its hands it held a bright ball of light. It swirled and bounced it about. It never hurt the mother but it did tingle a bit. The glow was white but as the the phetes played it changed colors at its own will. It used this ball to comfort itself at night. The mother stroked her belly and hummed a sweet melody until the phetes began to fall asleep letting the light dim until it disappeared.
But now she was going to lose her gift of amazement for she knew they would take her baby from her, she didn't know if she would ever get to hold her baby. She was afraid and didn't want to push, she wanted to keep her baby, science experiment or not.
"Please, no, don't take my baby!" She hollered at the doctor who turned to the scientist. "It's a girl." He told him handing her over. "That will do just fine, now clean her up and take her back to her compartment." He ordered. "I'll take project Light Sphere into the lab." He said turning in to two heavy metal doors taking away her baby forever.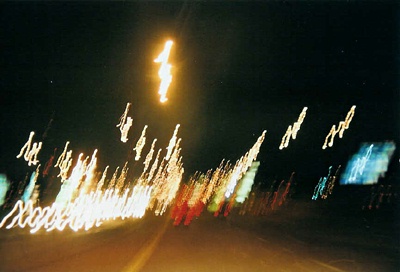 © Matt M., Ponca City, OK