Running
September 21, 2014
It's deathly silent. Icy metal discs press hard into my temples, the protruding wires flowing gracefully, mechanically, over my shoulders. There's a bruise forming on my cheek, dark, sickly purple, crawling and grabbing at skin with spidery tentacles. The humming beeps of the sleek machine next to me vibrates methodically, testing my breathing, my heartbeat. But otherwise it's still, peaceful, quiet; so unlike my life before, when there was no time for anything. Just running, running, running, running...
A seven-year-old girl, tying a handkerchief around a set of clean clothes, a loaf of bread, and a stuffed bunny. "Mother, why do we have to leave?" she asks. She feels confused, angry, sad.
Mother is upset. She doesn't want to leave. "We need to go far away or else they'll find us."
"Did they find Rachel? Is that why she doesn't come to school anymore?" the little girl questions sadly.
A pause. Something happened to Rachel. Something bad. I can see it in Mother's eyes.
Mother is anxious, her face white and taut, skin pulled sharp against her cheekbones, wrinkled around her eyes. "We need to be safe," is all she says.
"But home is safe. Why can't we just stay here?"
"Then they'll find us," Mother repeats. "We have to start running, Sonia. Remember that."
Running, running, running, running...
Sonia is eleven. It's her birthday. But no one comes to celebrate. Mother gives her a honey cake, only big enough for one bite. "Happy Birthday Sonia," Mother says, too tired to sing.
Sonia wonders where her friends have gone. It's been a while since they left home, when they began hiding in the shadows, rummaging through garbage bins. She was nine when she learned that they were running from killers, murderers, things planning to exterminate.
Sonia heard stories on the street: large and black...three heads...a chunk of mass...not human...no, something quite different...aliens...aliens...aliens. But Sonia never saw them. Only saw the crazed looks of victims as they stumbled through allyways, screaming in agony, tearing at their ashen faces with bloody fingers.
"Sonia, what are you thinking of?" Mother's face is old. Too old. Concern and fear and worry are too apparent in her features.
Silence. I can't say. We have to go. It's not safe. We have to keep running.
Three years later. Sonia is fourteen. Mother is gone. They found her, bled the color out of her eyes, drained the life from her lips, raked the muscle from her body. Sonia was there, she knew that Mother was already half dead from hunger and thirst, already dying. But they, the aliens, wanted her first. For what reason, Sonia didn't know. But Mother, lying nearly dead on a pile of wood, her fingers bleeding, dark liquid streaming from her eyes when she tried to cry tears, pulled Sonia as close as she dared. "I love you Mother, don't go," Sonia can't cry. Not anymore. "I love you, I love you, I love you, I love you."
"Sonia, keep running. Away from here, away from them. Don't let them find you. Don't end up like me. Keep running, Sonia, and maybe you'll survive."
No sound. I can't leave you Mother, not like this. Why won't you wake up? Why can't I cry? If I keep running will you follow?
Silence.
Sonia is fifteen, sixteen, eighteen, she can't remember. She seeks refuge in old buildings, begs for water, scavenges for food. She stays as long as a month, as short as a night, fleeing at any sign of them; a gurgling scream, a toothless and bloody grin, empty eyes bleeding black blood.
There's a place she must go. Somewhere white and clean and perfect. There are rumors: Buildings of glass...towers that scrape the sky...places to go when you're sick...people who share and give and are kind...somewhere perfect, with no flaws...everyone is happy...people who protect... Protect from what? Protect from disease...the Alien Disease...
They've found me. I see it in my reflection; the bleeding eyes, torn fingers, colorless lips, aging fast–so fast. I can't run, but I have to. I have to find this place. The place. I have to keep running, running, even if I can't. Running, running, running, running...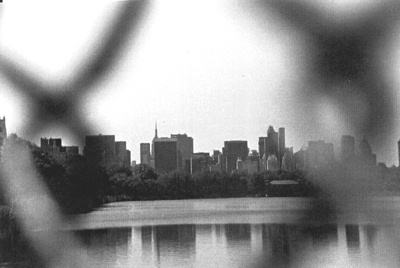 © Sarah M., Phoenix, AZ