How Sex Ed. Came To Be
July 10, 2015
Scene 1
Cut to:
Cramped room, small windows near the ceiling to show they are in a basement. Many plastic tables lined together, covered with plastic tablecloth with donuts and water bottles. Middle-aged adults talking and walking around the cramped rooms. Some are fanning themselves with their hands or the meeting's to-do list. They are all plump, trying to dress up but their cloths have sweat stains.
Slowly zooms in on person standing at the head of the table.
School Committee Head:
Sitting at the front of the room. Long blond hair pulled back in a bun that
suggestively was once nice but now is starting to fall apart and stray strands sticking up everywhere. Wearing a long plaid dress that shows off her chunky middle and large breasts.
(Bangs gavel)
"Attention! Attention! Everybody please sit down.
(Motion hands downward)
Everyone:
(Sits down)
School Committee Head:
"I call this meeting to order. Now, the purpose of this meeting is to discuss sex education at the high school.
Everyone:
(Groans)
School Committee Head:
Calm down, it's what has to be done. Now, does anyone have any ideas of how to make it better?"
Cut to:
School Board Member #1:
Youngest looking person in the room but still has a plump stomach. Wearing a light
blue dress shirt that shows off his pit stains.
(Raises hand)
School Committee Head:
"Yes, Peter?"
Peter:
"I say we put the school's youngest and most socially awkward students into one room and teach them how to put on a condom on some wooden penis."
School Board Member #2:
Women with graying hair, pointy nose, thin lips.
"That's a great idea! And while they're at it, might as well have them ask their parents about what sex was like for them growing up."
School Committee Head:
"Whooh, whooh. Calm down, let other people talk. Does anyone else have any
ideas?"
Everyone:
Silence
School Committee Head:
"Alright then, I guess we can run with those ideas."
Peter:
"I think we just successfully ruined these kids' freshman year."
School Board Member #2:
"But what about the teachers? We have to give them a run for their money."
Peter:
"What money? We hardly pay them at all."
School Board Member #2:
"True, but I just really want to make their lives miserable."
(Looks down at his hands)
Peter:
"How about having them share stories from their awkward teen years."
School Board Member #2:
"That seems like a solid curriculum."
School Committee Head:
"I couldn't agree more!"
Cut to:
School classroom. About twenty kids sitting in a windowless room, bored teacher standing at front.
Teacher:
"And this is how to put on a condom."
(Take out a condom and slip it onto a wooden penis)
"When I was a kid I got a girl pregnant."
Bell rings

Students begin to make their way to the door
Teacher:
"Don't forget that homework is to ask you parents if they had any illegitimate children when they were in high school."
Class:
(Groans)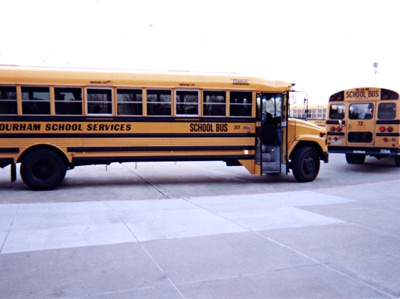 © Blake B., Highland Village, TX