Hilary's Body
October 24, 2009
"Are you sure about this?" I asked cautiously.
Dylan flashed a brilliant smile. "Yeah. Come on, I do this all the time." He motioned towards the window. "This one as always unlocked." He pushed it and it opened without a struggle.
Dylan went first, climbing silently through the window of the local swim club. It was late, almost midnight and I had snuck out of my house to break into the swim club for a late night swim. And I can't even swim. If I wasn't so crazily in love with Dylan, I wouldn't be doing this. Only love can make you do crazy things.
"C'mon, Bre," He said. Nervously I climbed through the window with help from Dylan. My heart was racing when he grabbed my hands and pulled me down. He didn't even know how I felt. We were best friends, that's it. And when you're in the friend zone, there's no getting out. But lately I've been catching him staring, the way he blushed when I caught him watching and the way he frowned when I talked about other guys. I think we both have been hinting the way we really felt about each other.
I looked around. We were in a locker room. It was hard to tell if it was boys or girls. I never been to this gym. He grabbed my hand and led me out in the hall.
"My brother and I do this all the time, trust me." He said leading me into the pool room. It was slightly warmer in here, but I shivered in spite of myself.
"So you break into the local swim club on a regular basis?" I raised an eyebrow.
"Pretty much," he replied with a smile.
The pool was huge and filled with clear blue water. I inhaled the smell of the chlorine, sighing to myself. I felt uneasy about this thing. What if we get caught? What if my parents wake up and realize I'm gone. Dylan walked ahead of me, lifting his shirt over his head. He turned and looked at me, his eyes studying my face. "Are you okay?"
"Yeah, um- yeah. I'm fine." I said. He still watched me with doubtful eyes, so I started taking off my shirt. I wiggled out of my shorts, revealing a teal bikini. I felt nervous being so scantily-clad in front of Dylan. I felt his eyes watching me but was too embarrassed to look up. "Well?"
Dylan laughed as he jumped right into the pool, the deep side of the pool. When he resurfaced, he swam towards me. "Come in, the water's not that cold."
I shrugged and sat down at the edge. "Dylan?"
"Yeah Bre?"
"I can't swim."
A pause. A long one. Then to my surprise he burst out laughing. "Well, I'll have to show you."
"Okay."
We started in the shallow end of the pool. I slipped inside the water slowly, holding my breath as the cold water swallowed me. Dylan swam over to me.
We started off slow. Dylan showing me how to float and relax in the water. Then he showed me how to kick and move my arms. My body warmed up to his touch, I felt tingly inside when he held me. It felt so right.
"You want to go deeper? You're doing great." He asked. I nodded. I trusted Dylan.
We splashed around for awhile, laughing as we splashed each other. I screamed with pleasure when he picked me up, threatening to throw me in the deep end. We were having so much fun, and everything happened so fast. We were splashing each other and then he disappeared.
"Dylan?" I yelled. He had gone under to scare me. "Come up now!"
My eyes scanned the water, but it was dark in here. There was only a faint light. And the water looked so dark in the deep end. I was beginning to become scared.
"Dylan?" I muttered weakly. He still hadn't come up. Suddenly something grabbed my leg under water. I screamed and kicked, knowing it was Dylan but still freaked out.
He came up next, laughing.
"Jerk," I muttered, splashing him with water. He went on laughing for another minute and I started to get upset.
"Whatever," I said lifting myself out of the pool.
"No,no!Wait!I'm sorry!" Dylan said, stopping me by pulling my arm. He pulled me back into the water and into his arms. The next thing I knew, his lips crashed into mine, and we were kissing. When I pulled away, I was in shock. Dylan just kissed me!
I must have looked weird, because Dylan was looking at me, confused.
"I'm sorry Bre, I don't know what I was thinking. I-". I cut him off with my lips.
We were kissing and I felt something touch my butt. I pulled away. "Dylan."
"What?" He asked. I gave him an I-know-what-you-did-look.
"What? Seriously, what did I do?" He asked again.
"You-"I stopped, looking down in the water. There was something down there. I just knew it. I looked closer. It was dark whatever it was. And it seemed to be getting closer. It was floating to the top!
"Dylan!"
"What! What is it!" I must've sounded hysterical because Dylan sounded hysterical.
Despite my better judgment, I looked closer. I started to go under.
I opened my eyes underwater and my vision was blurry. I felt Dylan freaking out above me, I felt the water circulating. I saw the object. It was rather large but I still couldn't make out what it was. I tried to get closer. I used what Dylan taught me to swim under even more. There was something that compelled me to get closer to whatever it was. And closer did I get……
I reached for the object until it was right in my face. A body. A dead body. Worse, it was the face I had looked at almost everyday for the last ten years.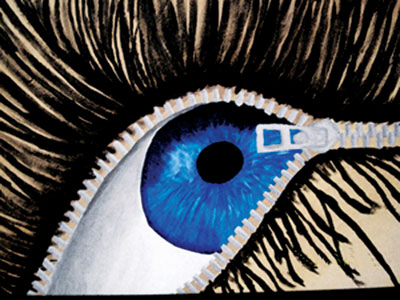 © Brad S., Lecompton, KS