You are the music in me
January 15, 2010
The music seeps under my door, seducing every sense of touch in my body. To others it may have been considered noise, but I found it delicious and a sudden urge for more quickly became my priority.
I grab, the familiar hotel bath robe, scented in lilac and vanilla and drape it over my shoulders. The door, doesnt make a sound as I begin to ease it open. I wasn't focused, on looking down the hallway, but only the doorknob, that at that moment shook lifelessly.
"Hello there."
Absent-mindedly, I slam the door,and avert my eyes to the ground. Tingles drive along my back, as I retreat towards my bed.
He appears behind my close-eyelids, and rushes of heat travel to my face.
Sounds, that had traveled to my suite, under my door had been coming from his room. It was rhythm, that snake charmers couldn't emulate. A sound so intensifying that if I hadn't been so stupid enouth to close the door in his face, I could have heard more.

Twenty-one years old, a time in life,where pervious opportunities were bellowing in my face. He hindered every move I tried to make. It was like, he was right there next to me, but my voice had been taken away.
And the urges, that I felt shortly before,had disappeared into fits of disappointment.

I realize that changing who I was, introverted and quiet came as a task beyond my reach. I was known, to behold my faith as something that simply happened. So taking this as a sign to leave the matter alone, I reminisce in my thoughts.
Just as I continue to mock my character in my head the door opens. Almost automatically, my face heats up.
He's in my room.

A guitar is clutched under his right arm, as he freezes in the doorway. He smiles in my direction, animating his dimples on each side of his cheeks. Dark eyes, are covered by wisps of golden-brown hair complementing his olive skin.

His facade alters when he notices that my astonished reaction hadn't change.
"Paysin, do you want me to play a song for you?"

The memories, race to my head, like nails driving into wood. His words, hurt my brain and it feels as if it was meant to do just that.
"Get out,of here," I scream sliding off my bed.
he looks confused like the part of his mind where he should remember was never there.

"Paysin, what's wrong....what did I do?"
More flashes, appear in my head, they're sharper this time.
"Please,stop,don't come any closer," tears are rushing from my eyes.

I see it all. The cool breeze back in Nantucket and my emotions that were stable then. I see where feelings of sadness had been gone. Depleted.
All this simply, because he was with me. Because he made everything seem perfect. His love concealed all my insecurities, my fears and desolation. But then, even that had quickly changed.

"Paysin, what the hell is wrong with you. I'm talking to you, answer me."
Flashes, of the pain struck me.
He is less than two feet away. The memory, of the first time he hit me replays in my mind like a tape recorder. Shouting at, my mistakes, mocking my stupidity.

I look up into his eyes, with the same expression on my face as of the night in Nantucket.
After, blood had been tainted on my fingers.
"Your music....is beautiful," I savor each word.
He drops, his guitar to the ground, and coninues to stare at me.

It was all clear why I had pursued this time off. Why his music seemed as something out of a fairytale story.
"Paysin,I don't understand," he leans closer to stroke my face.
"Don't touch me," I sputter walking away from him. If I had know that he was the one down the hall, in the same hotel as me. I wouldn't have opened the door.

"Paysin," his hand raises up. I wince thinking he's going to hit me again.
"How did you know I was staying here? Did Daemon tell you," I shield myself turning my back to him. He grabs me by the arm, his features harden, while I still sense his fear.
"I'm here because I love you."

He's lying through his teeth, I know it.
"If you loved, me I wouldn't have this," I lift up my shirt, revealing my bra and the long incision sewn up by the doctors.
He had thrown me across the room, smashed my body into different objects.
And now he claimed that he love me.

"Jamie,if you don't go I will," I search for my suitcase, looking for possible things to put inside. I feel his eyes, burn holes into my skin. Everything is quiet.
I breathe, and with the time of my exhale Jamie grabs me from behind.
"I love you Paysin, and if you can't believe that...I struggle to breathe,he's holding my neck.
All my mind, relays is the music, the calmness my body felt. Not knowing, who had been behind the all that, the music was disguised. As so was, Jamie's true colors. I couldn't take it anymore, choosing it as a distraction to hide from the pain.
Thrashing my legs I kick him from behind.
"Damn it, Jamie get off."

He holds me tighter, asI become one with his scent.
"I love you remember. I'll do anything for you."
His, guitar is in eyeshot, I see the strings, begging to be touched. The images are stuck in my head, and I swerve toward guitar. Surprisingly, he follows me.

I take the guitar when he finally lets go.
The adrenaline, is pumping, and the sorrow he adorned on me comes back. I smash the instrument in his chest, focusing more on his head. Blood appears as beads, around the linings of his mouth.
Jamie doesn't do anything to fight back, he just stands there and takes the blows.
He keeps on repeating I love you.

I drop, the guitar, and begin punching him in chest, swallowing my tears.
"I'm sorry Jamie,I say as I bite his neck sucking the last of life from his body.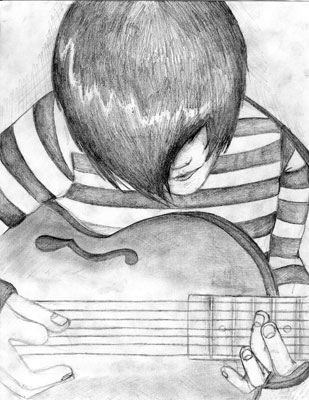 © Amy R., Yardville, NJ