Hysteria is My Legacy
MAG
June 24, 2010
The eerie forest was so familiar, but the situation so unreal. When I was a young, pretty girl, I loved these woods, these ancient trees that reached to the sky with all the ambition in the world. I loved the soft grass that danced around my ankles and caressed my bare feet, and the heavy darkness that had never been as dark as now.

But, at this moment, the leisurely stroll was a bit too fast-paced, the frantic pumping of my legs a bit too strenuous. I knew the house was in these woods somewhere. I knew if I could just make it a bit farther I would be safe and hidden in the shadows of my memories where he could not find me.

But the future wasn't a promise, and the present was a race. So I ran and I ran, and I prayed with all my power that I would make it out alive. Thunder erased the deafening silence, and the humidity grew with the moment. I definitely wasn't young anymore; if it got any hotter I would surely collapse on the spot. I guess when your life is a lot further away than your death, you just become someone else. God knows I couldn't have made it this far any other day of my life.

The thick trees ducked away from the sky in an opening midway to my destination. When I got there, I hoped for moonlight or at least star shine, but I got nothing. The cloudy, brooding sky took no mercy on me, and my blind parade was blind still.

It was obvious, to me even, that I was slowing down. The footfalls behind me were growing closer, louder. In a moment of sheer insanity, I found myself thinking that maybe the trees, who were once my closest friends, would hide me from reality and save me from my demise. I giggled timidly then said the hell with it and threw my head back and laughed. It's not like he didn't know where I was.

I spewed laughter until my eyes were foggy with tears of joy. Then, the sight my bleary eyes saw made my giggles stop in my throat: My house, my mansion, my childhood – it was gone.

Shocked, I fell to my knees. It began to rain, and I nearly cried at the cruel irony of the moment. What I needed most wasn't there. My safe haven, my life saver, my only plan, and my pleasant memories – they were all gone. And it was raining. My God, it was raining.

Hysteria edged its way into my thoughts and I allowed it to take over. And then I giggled 'til I chuckled 'til I laughed 'til I was rolling on the ground, fat, salty tears of horror and humor running races down my sun-worn face.

And that's how he found me, the man who so desperately wanted my blood on his faded blue jeans. Yeah, I didn't make it out alive, but so what?

I least I died laughing.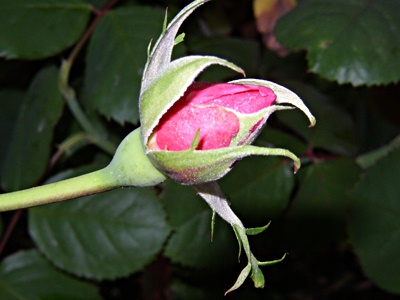 © Lauren B., Edina, MN