Behind the Willow chapter 2
June 30, 2010
Dead leaves cracked beneath my feet as I worked my way through the snaking pathway. The trail had obviously been used multiple times before. The brown soil that was overpowered by green in every other spot in the green world was able to poke out its head along the trail. The trail wasn't dark, but the light that filtered through the canopy was tainted green. It was somewhat silent in the wooded area. Other than the crackling of leaves, and the occasional running squirrel or deer, I was enveloped in a forever silence.

I had been on the trail for about 30 minutes without seeing anything other than brown and green. After awhile, I began to believe that those 2 small colors were all that existed in the world. The thought of turning back crossed my mind every few minutes. But the thought of the long gruesome walk back to the plain area, accompanied by curiosity, motivated me to keep moving on.

It had nearly been an half an hour since I started my journey, and I still had discovered nothing new. Once again, the thought of returning came to mind, but this time the pain and heat won over curiosity. "Just a few more steps" I said to myself. It was those few more steps that I needed to uncover my a mystery. It was those few steps that I needed to ascertain the truth. It was those steps that I needed to discover the bones…….




************************

The path lead to an open area, maybe 40 ft wide and 50 ft long. Tall Pine trees dotted the area. Empty water bottles, empty Cheetos bags, and kicked over chairs littered the area. And under one of the trees, left exposed, was a complete skeleton.

Even though they were left exposed, they weren't easy to find. They had been stained a light brown from exposure to the elements, which matched almost perfectly with the surrounding soil. Land around them had been disturbed, leaves and twigs were moved into piles around the tree. The one thing about the bones that really hit me: they were clearly, unmistakably, human.

The empty eye sockets stared through me, it was as if the long decomposed eyes could see straight into my soul. But there was something about them that screamed out in pain, a ghostly scream in the night.

I walked closer to the skeleton, my heart racing. I could feel the pulse in my ears, thump thump thump thump. I knelt down next to the skeleton. "Oh my God" I whispered to myself, cupping my hands over my mouth. Sweat beaded down my face.

"Who are you? What are you doing here?"
My heart stopped.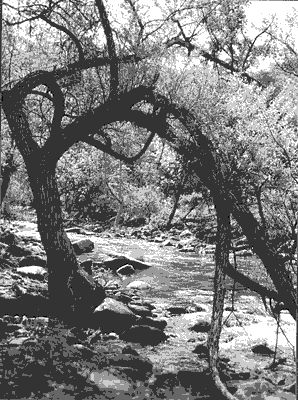 © Eddie S., Elverson, PA