Max- The Boy In the Closet
August 14, 2010
Name: Audrey J. Collinson
Age: 22
Gender: My name is Audrey, I think you know.
•
Why are you here?
o
Well most kids say it is because their parents forced them to come. I'm here because my mom died and my father is in jail so, this is the only other option.
•
If we help you with your life, what will you do in return for us?
o
Well, you aren't going to help me simply because I'm not asking you to help me. But If You must help me, I will "Follow the rules no matter what and if I should fail you I will get kicked out immediately."
•
What is your story?
o
Ooh, that's a tough one, maybe I'll start from the end, the back-track to the beginning, and then finish by telling you that I realized my problems before I even started the program! Syke! My story is just like everyone else's that walks through those sad looking revolving door, which by the way shouldn't be revolving because it is much easier to escape from in the middle of the night. But seriously, I wasn't always like this; I mean sure I was always a smart-alec and had brown, tightly curled hair with dark brown eyes and a caramel complexion. But I wasn't crazy, even as a child when I saw things in my closets I wasn't crazy, they were really there. Mrs. Joann told me that I was delusional and I would be put in a crazy hospital if I didn't stop scaring the other brats, but I was scared myself. My friend Max would sit in the closet all day, talking to me and taunting me, until I cried and ran out the room, then after I left that home, Max was in my closet again, just taunting me and telling me to come closer to the closet so he could get a better look. After that I came here, filling out these dumb forms every 13th of September, just to prove that I don't deserve to be here, I'm not crazy and I SHOULDN'T BE TREATED AS A FREAK THAT SEES A LITTLE BOY EVERY NIGHT IN HER CLOSET AND IS SCARED TO GET CLOSE OR SHE'LL DIE!!! Wow, after rereading that, maybe I am crazy. But denying my sanity only makes others deny my sanity. You don't think I'm crazy…Do you?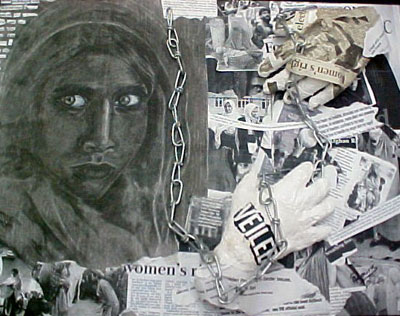 © Poornima P., Cutchogue, NY