Hematite
September 30, 2010
I never knew anything about her other than what she looked like. To tell you the truth, I may have imagined her. No one ever spoke to her. Never once was she called on in class. She sat in the back and she never had anything with her but a penny. She spent entire class periods spinning the penny on the desk, flipping it over her fingers, tossing it (and, I guessed, silently calling heads or tails).

She had long, feathered hair the color of charcoal and circles under her eyes. Those irises were the silvery grey of a foggy morning. I often wondered whether something strange existed behind them, something not entirely parallel with reality: a persistent, misty seven o'clock just filling her psyche and spilling out of her eyes. She doesn't cry; she drizzles.

Sometimes I could swear she was a ghost. You never saw her walking in the halls; you'd take your seat and you could swear she wasn't in class, and the teacher would begin to talk, and then you'd take a second look around the room and somehow she'd be there. I half-expected to glance back one day and see her form slowly take shape from empty air.

But the most curious thing was the pendant she wore around her neck. A small, shiny black circle, sort of flat in the middle. It always reminded me of a blood cell—it wasn't perfectly round, had a few flat spots that didn't quite belong. Sort of as if a child had shaped it from clay.

Of course, it wasn't clay—it was hematite, and that was what really intrigued me. I love hematite. It plays tricks on your eyes—black as anything in the shadows, but in the light it adopts this ethereal silver sheen. Almost like her eyes, but harder.

I have a piece of hematite. I keep it at home, on my windowsill. On fall mornings, I can pick up that stone and get goose bumps. It's cold. Close your eyes and you could mistake it for an ice cube. But some days I carry it in my pocket, and if I take it out to look at it, it's warm as a feverish forehead.

The only interaction I've ever had with her involved that hematite necklace.

The day stands out in my mind. Not because of her, exactly—but because it was Valentine's Day. I arrived to class and was startled to realize we were taking a test; my mind was on my evening. I was taking my steady girlfriend out to dinner and couldn't remember what kind of flowers she liked.

Everyone was totally quiet. I couldn't focus, and I couldn't sit still, so I got up to sharpen my pencil.

There she was. Of course she was, even though she hadn't been there five minutes ago. Wearing plain clothes—a white t-shirt and jeans. I wondered if she'd gotten any valentines.

The pencil sharpener roared. A couple of people glared at me, but she didn't even flinch when I punctured the swollen balloon of silence.

I passed her desk on the way back to my seat up front, and she leaned over to scratch her leg.
I can tell you exactly what happened next. I can tell you how the chain got hooked around the corner of the desk and how she didn't notice. How she sat up very quickly and how there was a tiny metallic snap when the chain broke. I could describe exactly the gut-wrenching moment when the pendant hit the tile floor and skittered and hit my shoe, and the snaking hiss of the chain as it dripped off her neck after it. I could perfectly describe her terrified expression when I handed her the pieces of her necklace, and I can still see them falling into her palm.

But even if I forget all that, I will still always feel the empty chill of that hematite pendant between my fingers.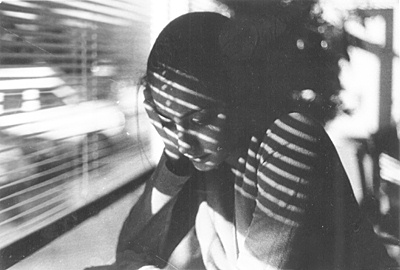 © John O., New City, NY