The Voice
February 4, 2011
Four minutes in the shower, eight to get dressed. Hurry up or you will be late again. Do you really want to here her yell? Your phone's going off, are you going to ignore it? Come on don't ignore it, it could be important. Hello? Its a 800 number. Hang up you don't need to listen to it. Come on just hang up. Toss the phone back on the bed. Jessie's ready, you can here her singing...again. Let's go get a move on. You don't have all day. There she is screaming, What's wrong now. Ugh she's coming in the room. She's jumping on you, why is she playing? She knows we don't play in the mornings. You have Two minutes to get out the house and she has nothing on her feet. Your crazy for taking her in, you knew this would happen. Let's go get her going. Your ready, GO. Pick her up it will be faster, bring her shoes in the car too you don't have time.
Let's go.
Good where driving but Jessie keeps talking. You don't have time to talk to her. Drive. Is her seat belt buckled? I sure as h*** hope so because you don't have time to talk. Drive. Do you need to walk her inside? You don't need to walk her inside. She's five give her some Independence. Ugh you have to walk her in, what if someone tries to take her. Your waisting time lets go!
No, her teacher wants to talk, just turn around. Act like you don't here her. You cant do that. Its 8:23 let's go already. Come on. Just walk.
Do you feel bad about walking out on her teacher? It was probably nothing. Don't stress your self, you can talk after school. Come on.
Clock in. Wait here comes the boss. You really don't feel like hearing her. She said she called. She didn't call you. She's crazy. Why is she in your face? Just quit. You know you want to. But you can't can you? No you don't have the guts. But you don't want to quit really, that's the easy way out, you know what you wanna do. So do it. Just do it. YOUR GUTLESS. Ha look what you did. I hope you like the color red because it's all over now. You here the people screaming? Your crazy now. Your gonna go to jail. How long do you think there gonna keep you? Forever? You better hope not. Police are coming. You can't run, you might make it worst. Have fun.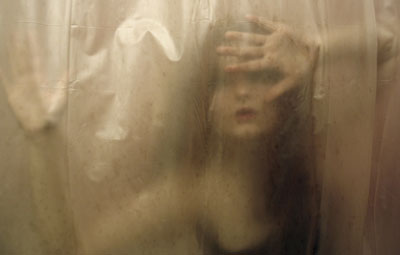 © Emilie E.